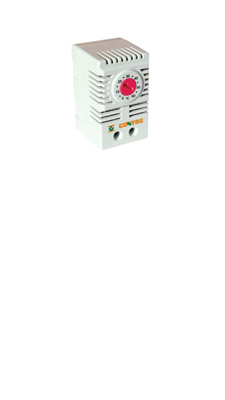 CONTEG

Products IT

Outdoor Cabinets

Accessories outTEG

Thermostat
Thermostat
Bi-metal thermostat for regulating heating and cooling inside the enclosure. The thermostat unit has adjustable upper and lower limits set to points with a 7 °C hysteresis within the temperature range of 0 to 60 °C.  The Thermostat unit can be DIN rail mounted.
The Thermostat's normally open cooling contacts can be used, for example, for the regulation of filter fans and heat exchangers or for activating remote monitoring signal transmitters when a set temperature limit has been exceeded.
The Thermostats normally closed contact is typically used for the control of heaters for internal cabinet temperature regulation.
Bimetal thermostat for heating and cooling for the ambient temperature range -20 to 80 ° C mounted on DIN rail
Sensor element: thermostatic bi-metal
Maximum tolerance: ± 4 K
Switching difference  (hysteresis): 7 °C ± 3 K
Switching capacity (max. load):15 A (2 A), 120 V AC; 10 A (2 A), 250 V AC; DC 30 W při DC 24 V
Max. inrush current for relay contacts: AC 16 A for 10 sec.
Connections: 2-pole terminal for AWG 14 max. (2,5 mm)
Mounting: Standard clip for 35 mm DIN rail
IP rating: IP20
Dimensions (HxWxD): 55x33x43 mm
Weight: 40 g
Setting temperature range: 0 to 60 °C
Operating temperature: -20 to 80 °C