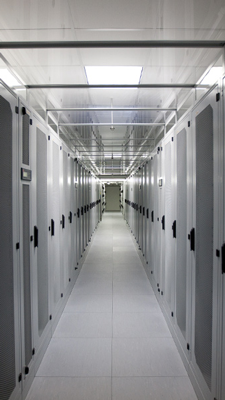 CONTEG

Products IT

Contained Aisle Solutions

Contained Aisle - Fixed Solution
Solution is available for 42, 45 and 48U racks and for 1 000, 1 200, 1 800 and 2 400 mm aisle widths.
Doors sections
The door is very important member of this contained aisle solution.  There are two versions – sliding or double- wing doors.  

Standard sliding doors are equipped with a Mechanical opening system (each door wing is independent) and can be equipped with a Dual-Synchro system (both door wings move simultaneously) or an Automatic  system  with electronic control. All sliding doors are made from Aluminium.
Standard double-wing doors are mechanical and they can be equipped with an Automatic Door Handle system. A blank panel could be used instead of doors to close one side of a contained aisle.
Roof
Modular roof sections are bolted onto the top of the  racks to prevent the mixing of cold air and warm exhaust. The roof section are made from 1.5 mm  powder-coated  steel  and are available in 600, 800, 900 & 1100 mm to  suit all assambley options. The vertical sections feature glass insert panels that make the top of the installed racks easily accessible while allowing the maximum light into the aisle. The roof panel is made from 6mm thick clear polycarbonate to allow  for easy integration of fire suppression systems into the aisle.