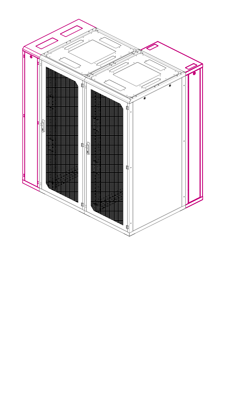 CONTEG

Products IT

Free-Standing Racks

Space Optimisation Sections
Space Optimisation Sections
Conteg's Space Optimization Sections are designed to give the data center additional layout options. The 300 mm wide sections can be added to expand the cabinets either at the side or front to back to allow for additional mounting space for equipment and cabling. By only consuming half of a standard rack footprint, the floor space within the data center can be optimized to accommodate IT equipment while still providing adequate space for power and network cabling distribution. We guarantee full compatibility with rack series PREMIUM. The design consists of the following section types:
End section
Front/rear section
MAIN ADVANTAGES:
Special sections for adding extra space
Allow layout flexibility via expansion of previously installed racks
Same size as racks for minimal space consumption
Can be added to the side, front and/or rear of standard racks
The end section is located at the end of the row of racks. Use of this section can be very efficient in the hot and cold corridor designs, because it allows for the concentration of the cabling management, power supply and the interconnection on the end of the racks row where the previously mentioned systems can be accessed most easily.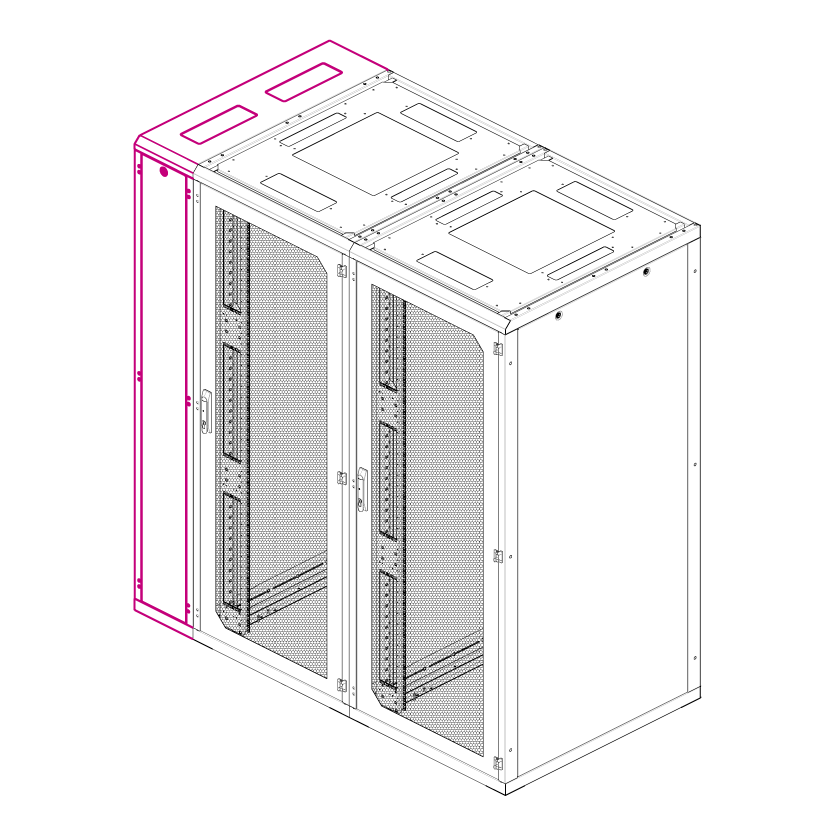 Standard 300 mm width
Welded frame structure
Front and rear panel with a lock
This section is not equipped with side panels
Cable inlets in the top and bottom cover
Compatible with 19" vertical extrusions and /or vertical systems of the cabling organization
Front/rear section
The front and rear sections can be added to the rack to increase its overall depth by up to 600 mm (300 mm at the front, 300 mm at the back). This can be useful for equipment that requires a deeper rack than originally planned. The sections can also be used to mount power strips or patch panels, allowing for a great number of cable and power connections without sacrificing the internal space of the cabinet. The front and rear sections can be retrofitted to existing cabinets if necessary, meaning that you can upgrade your facility without needing to replace your cabinets.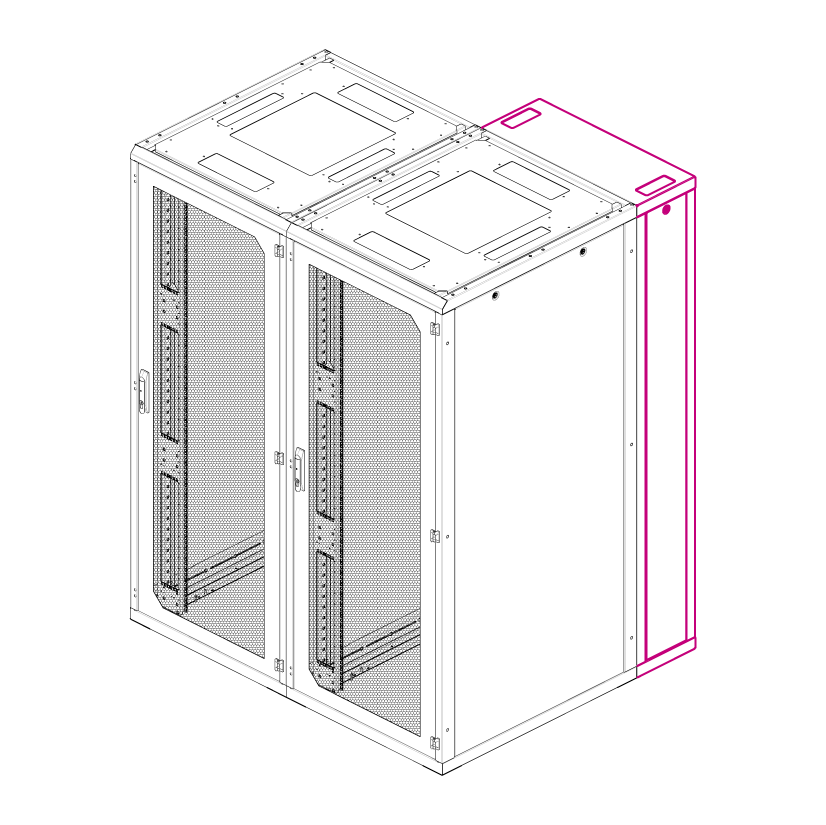 Standard 300 mm width
Frame structure
Cable inlets in the top and bottom covers
Security glass door with a swivel handle lock, a wide range of doors is offered (vented, sheet metal, perforated metal, vertically divided, etc.)
RELATED ACCESSORIES
Code
Description
Note
DP‑RS‑VP‑42/30/19‑A
(H) 42U, (W) 300 mm, 9× 19" positions
VERTICAL PANELS FOR FRONT/REAR SECTIONS –vertical panels required for installing relevant 19" and 10"equipment (patch panels, PDUs, switches) and 14 or 15RJ‑45 panels in the front/rear section

DP‑RS‑VP‑45/30/19‑A
(H) 45U, (W) 300 mm, 9× 19" positions

DP‑RS‑VP‑42/30/10‑A
(H) 42U, (W) 300 mm, 24× 10" positions
DP‑RS‑VP‑45/30/10‑A
(H) 45U, (W) 300 mm, 24× 10" positions
DP‑RS‑VP‑42/30/RJ‑A
(H) 42U, (W) 300 mm, 14× positions for RJ‑45 panels, 6×RJ‑45 modules each panel
DP‑RS‑VP‑45/30/RJ‑A
(H) 45U, (W) 300 mm, 15× positions for RJ‑45 panels, 6×RJ‑45 modules each panel
DP‑RS‑RJ‑14‑XX
14 empty panels for snap in, 6× RJ‑45 modules each; check with sales for compatibilityof the respective RJ‑45 brand
DP‑ES‑VP‑42/30/19‑A
(H) 42U, (W) 300 mm, 9× 19" positions
DP‑ES‑VP‑45/30/19‑A
(H) 45U, (W) 300 mm, 9× 19" positions
VERTICAL PANELS FOR END‑OF‑THE‑ROWSECTIONS – vertical panels required for installing 9× 19"equipment (patch panels, PDUs, switches) in end‑of‑the‑rowsection