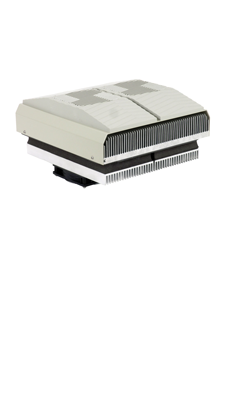 CONTEG

Products IT

Outdoor Cabinets

Outdoor Climate Control

Thermoelectric Cooler
Thermoelectric Cooler
Thermoelectric cooling uses the Peltier effect to create a heat flux between the junctions of two different types of materials. They can be used either for heating or for cooling (refrigeration), although in practice the main application is cooling. It can also be used as a temperature controller that either heats or cools.
Advantages of thermoelectric unit:
Small size
Immediate effect of cooling / heating
Achieves low temperatures
Easy power control
Silent operation
Long life (theoretically unlimited)
Can direct cooling to a very small area
Combination of cooling and heating
Cooling/heating power: 200 W
Material: Plastic parts in PC/ABS alloy. UL 94V-0 compliant
Color: RAL 7035
Operation temperature limits: -20 °C/+70 °C 
IP rating:  IP55
Electrical connection: by 4 pole Cage Clamp© connector
Sealing: permanent sealing gasket in closed cell foam polyethylene
Recommended accessories: Programmable thermostat and reverse starter (order code ID-EP-REG) is suitable for controlling cooling/heating depending on measured temperature.
Note: The unit is assembled and supplied connected to the outTEG cabinet.