CONTEG

Products IT

Free-Standing Racks

PREMIUM Cabling RDF
PREMIUM Cabling RDF
The PREMIUM Cabling RDF 19" rack is a cabling cabinet designed for data centers, equipment rooms and network or telecommunication closets. Moreover, RDF is fully compatible with all cooling units from the Targeted Cooling portfolio.
MAIN ADVANTAGES:
All-purpose rack designed for cabling applications with load up to 800 kg
Fully configurable
Compatible with all cable management systems – OptiWay, High Density Wire Management,Top Ducts
The PREMIUM Cabling RDF's flexible configuration options allow you to easily tailor the design to meet your exact requirements for quantity, position and type of cable entry openings. The RDF 19" cabinet comes with a full range of door, panel and lock options and is designed to work with Conteg's air-flow optimization solutions. Advanced cabling systems, High Density Wire Management and OptiWay, will complete RDF's installation and can provide any type of cabling with the best possible support and care.

Height: 27, 42, 45, 48U
Width: 800 mm
Depth: 800, 1000, 1200 mm (1200 mm not available for 27U)
Load rating: 800 kg balanced load (for 27U 400 kg only)
Doors: 10 types of doors for front and rear installation; 3 types of rear panel; 8 types of locks; door opening angle 180°; can be easily change to open on right or left
Top plate: Single-piece design, removable, can be replaced by other design types
Bottom plate: Segmented design, rounded cable entry covered with plastic caps
Side panels: 2 designs available, always removable with an option of 2 types of locks.
Extrusions: 2 pairs of sliding 19" vertical L-type extrusions
IP rating: Standard IP40, IP54 option, IP20 when using perforated or vented doors, A/C ready - IP54 when A/C unit installed
Color design: powder coated RAL 7035 or RAL 9005, other color options available
Feet and castors: adjustable feet, castors, lockable castors
Air-conditioning: A/C and cooling unit compatible - CoolTeg and CoolSpot
Standard configuration
Other configurations are available: see the attached datasheet for more information.
TECHNICAL DRAWING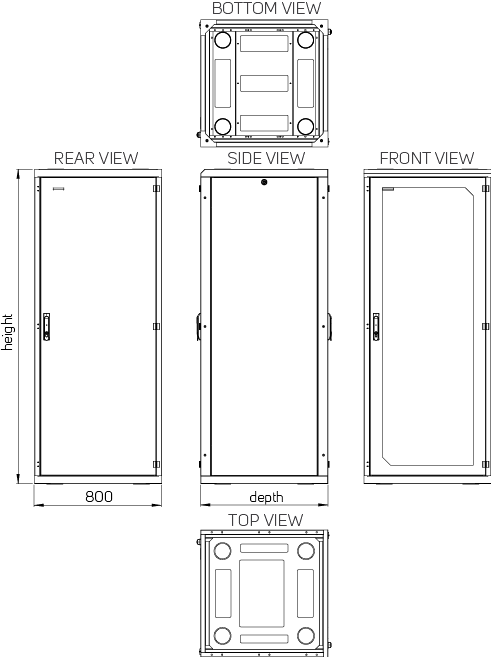 TOP PLATES – I DESIGN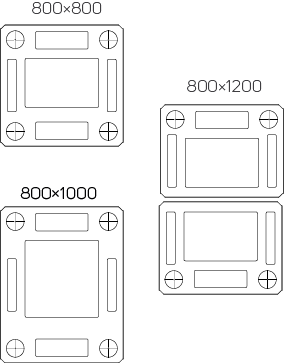 BOTTOM PLATES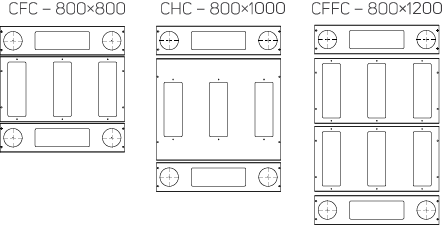 PREMIUM Cabling RDF
Code
H (in U)
Load Rating (kg)
Dimensions (mm)
Dimensions incl. packing (mm)
Gross weight (kg)
H*
W
D
Useful depth
H
W
D
RDF‑27‑80/80
27
400
1311
800
800
731
1500
840
840
100
RDF‑42‑80/80
42
800
1978
800
800
731

2160

840
840
134
RDF‑45‑80/80
45
800
2111
800
800

731

2290

840

840
141
RDF‑48‑80/80
48
800
2245
800
800

731

2430

840

840
147
RDF‑27‑80/100
27
400
1311
800
1000

931

1500

840
1040
124
RDF‑42‑80/100
42

800

1978
800

1000

931

2160

840

1040

157
RDF‑45‑80/100
45

800

2111
800

1000

931

2290

840

1040

165
RDF‑48‑80/100
48

800

2245
800

1000

931

2430

840

1040

173
RDF‑42‑80/120
42

800

1978
800

1200

1131

2160

840

1240

175
RDF‑45‑80/120
45

800

2111

800
1200

1131

2290

840

1240

198
RDF‑48‑80/120
48

800

2245

800

1200

1131

2430

840

1240

208
* Height in mm without feet; for feet add 16–45 mm