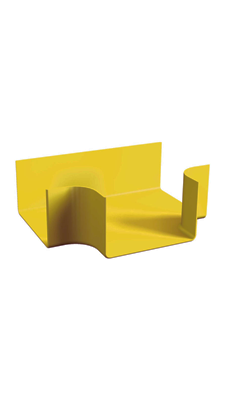 CONTEG

Products IT

Cable Management

OptiWay
OptiWay
OptiWay is designed to provide a safe, easy-to-use and cost-effective management system for your fragile optical cables. OptiWay allows you to route fiber optic cables around equipment and provides the physical protection and bend radius management that is crucial to optical cable performance. Constructed of halogen-free PC/ABS material, OptiWay protects your cabling from the beginning of the installation to the end. The OptiWay system is fully modular, giving you unrivaled flexibility in your chosen layout, whethe rit is a new-build or a refurbishment project.
MAIN ADVANTAGES:
Designed to make optical cable management systems safe and easy-to-use
Fully modular, scalable system
Bend radius protection
Halogen-free PC-ABS material, compliant with UL 94 V-0
Designed for three installation variables: hung from ceiling, top of rack support or a combinationof these
Multilevel installation
The final design can be fully customizable
Key features:
Quick and easy installation
No special tools required
High-quality material
Easy drop arrangement
OptiWay Installation
There are two ways of installing the OptiWay system. In the first scenario, the threaded rods are fixed to the ceiling construction, and OptiWay ducts are supported by brackets mounted on the threaded rods. In the second scenario, threaded rods are fixed to the top of the rack. OptiWay ducts are again supported by brackets mounted on the threaded rods. Each type of installation has its own specific features, and the final design is individually customized by Conteg product engineers to guarantee the best available OptiWay system performance.
MAIN DUCT

MAIN DUCT
Code
Inner duct size (mm)
Length (m)
Package
H
W
OPW‑16MD2M‑YL
100
160
2
2 pcs
OPW‑30MD2M‑YL
100
300
2
2 pcs
COVERS
OPW-16MDC2M-YL
–
160
2
1 pc
OPW-30MDC2M-YL
–
300
2
1 pc
JOINER

JOINER
Code
Inner duct size (mm)
Package
H
W
OPW‑16MD2M‑YL
100
100

1 pc

OPW‑30MD2M‑YL
100
160

1 pc

OPW-30MDC2M-YL
100
300
1 pc
CROSS

CROSS
Code
Inner duct size (mm)
Package
H
W
OPW‑16CA‑YL
100
160

1 pc

OPW‑30CA‑YL
100
300

1 pc

COVERS
OPW‑16CAC‑YL
–
160

1 pc

OPW‑30CAC‑YL
–
300
1 pc
REDUCER

REDUCER
Code
Inner duct size (mm)
Package
H
W1 / W2
OPW‑3016RD‑YL
100
300 / 160

1 pc

COVERS

OPW‑3016RDC‑YL
–
300 / 160
1 pc
TEE

TEE
Code
Inner duct size (mm)
Package
H
W
OPW‑16TA‑YL
100
160
1 pc
OPW‑30TA‑YL
100
300
1 pc
COVERS
OPW‑16TAC‑YL
–
160
1 pc
OPW‑30TAC‑YL
–
300
1 pc
HORIZONTAL ELBOW

HORIZONTAL ELBOW
Code

Type

Inner duct size (mm)
Package
H
W
OPW‑16HA45‑YL
 45°
100
160
1 pc
OPW‑30HA45‑YL
 45°
100
300
1 pc
OPW‑16HA90‑YL
 90°
100
160
1 pc
OPW‑30HA90‑YL
 90°
100
300
1 pc
COVERS 
OPW‑16HA45C‑YL
 45°
–
160
1 pc
OPW‑30HA45C‑YL
 45°
–
300
1 pc
OPW‑16HA90C‑YL
 90°
–
160
1 pc
OPW‑30HA90C‑YL
 90°
–
300
1 pc
VERTICAL INSIDE ELBOW

VERTICAL INSIDE ELBOW
Code

Type

Inner duct size (mm)
Package
H
W
OPW‑16IA45‑YL
45°
100
160
1 pc
OPW‑30IA45‑YL
45°
100
300
1 pc
OPW‑16IA90‑YL
 90°
100
160
1 pc
OPW‑30IA90‑YL
 90°
100
300
1 pc
COVERS 
OPW‑16IA45C‑YL
 45°
–
160
1 pc
OPW‑30IA45C‑YL
 45°
–
300
1 pc
OPW‑16IA90C‑YL
 90°
–
160
1 pc
OPW‑30IA90C‑YL
 90°
–
300
1 pc
SPILLOVER

SPILLOVER
Code
Inner duct size (mm)
Package
H
W
OPW‑10DR‑YL
100
100
1 pc
OPW-10DRF-YL
100
100
1 pc
COVERS 
OPW‑10DRC‑YL
–
100
1 pc
OPW-10DRFC-YL
–
100
1 pc
SPILLOVER ACCESSORIES
Code
Description
Package
OPW‑10JO‑YL
OptiWay 100 Joiner, 100×100 mm, yellow
1 pc
OPW‑10TP‑YL
OptiWay 100 Trumpet, 100×100 mm, yellow
1 pc
OPW‑10IA45‑YL
OptiWay 100 mm, 45° down angle, yellow
1 pc
OPW‑SDMB‑16
OptiWay Side Drop Mounting Bracket for 160×100 mm duct
1 pc
OPW‑SDMB‑30
OptiWay Side Drop Mounting Bracket for 300×100 mm duct
1 pc
OPW-10DRF-TG
OptiWay 100 Spillover fall-out tube guide (up to two tubes), without tube, black
1 pc
OPW-10DRF-TB3
OptiWay 100 tube for spillover, outerdiam. 40 mm, length 3 m, black
1 pc
OPW-10DRF-TB30
OptiWay 100 tube for spillover, outerdiam. 40 mm, length 30 m, black
1 pc
VERTICAL OUTSIDE ELBOW

VERTICAL OUTSIDE ELBOW
Code

Type

Inner duct size (mm)
Package
H
W
OPW‑16OA45‑YL
 45°
100
160
1 pc
OPW‑30OA45‑YL
 45°
100
300
1 pc
OPW‑16OA90‑YL
 90°
100
160
1 pc
OPW‑30OA90‑YL
 90°
100
300
1 pc
COVERS 
OPW‑16OA45C‑YL
 45°
–
160
1 pc
OPW‑30OA45C‑YL
 45°
–
300
1 pc
OPW‑16OA90C‑YL
 90°
–
160
1 pc
OPW‑30OA90C‑YL
 90°
–
300
1 pc
TRUMPET

TRUMPET
Code
Inner duct size (mm)
Package
H
W
OPW‑10TP‑YL
100
100
1 pc
OPW‑16TP‑YL
100
160
1 pc
OPW‑30TP‑YL
100
300
1 pc
END CAP

END CAP
Code
Inner duct size (mm)
Package
H
W
OPW‑16EC‑YL
100
160
1 pc
OPW‑30EC‑YL
100
300
1 pc
SPILLOVER SUPPORT BRACKET

SPILLOVER SUPPORT BRACKET
Code
Supported duct inner size (mm)
Package
H
W
OPW‑SDMB‑16
100
160
1 pc
OPW‑SDMB‑30
100
300
1 pc
SUPPORTS DE FIXATION POUR TIGE FILETÉE

SUPPORTS DE FIXATION POUR TIGE FILETÉE
Code

Bracket length (mm)

Mounting type
Rec. rack depth(mm)
Mount.holes
Package
OPW‑TRB‑16
160
Ceiling-mounted
all
1
1 pc
OPW‑TRB‑30
300
Ceiling-mounted
all
1
1 pc
OPW‑RRB‑40
344
Mounted on top of the half part of the rack
800
2
1 pc
OPW‑RRB‑50
444
Mounted on top of the half part of the rack
1000
2
1 pc
OPW‑RRB‑60
644
Mounted on top of the half part of the rack
1200
2
1 pc
OPW‑RRB‑80
641
On top of or overlapping the rack
800
3
1 pc
OPW‑RRB‑100
 841
On top of or overlapping the rack
1000
3
1 pc
OPW‑RRB‑120
1041
On top of or overlapping the rack
1200
3
1 pc
OPW-SRB-60
 632
OptiWay – side mounting bracket for installation of cable duct on a 600 mm wide rack– front/rear orientation
–
2
1 pc
OPW‑SRB‑80
832
OptiWay – side mounting bracket for installation of cable duct on a 800 mm wide rack– front/rear orientation
–
2
1 pc
THREADED ROD MOUNTING BRACKETS

THREADED ROD MOUNTING BRACKETS
Code
Supported duct inner size (mm)
Mounting type
Package
H
Size
OPW‑TR‑16/100
1000
M16
From the ceiling
1 pc
OPW‑TR‑16/200
2000
M16
From the ceiling
1 pc
OPW‑TR‑16/20
210
M16
On top of the rack using OPW‑TR‑BR
1 pc
OPW‑TR‑16/40
400
M16
On top of the rack using OPW‑TR‑BR
1 pc
OPW‑TR‑16/60
600
M16
On top of the rack using OPW‑TR‑BR
1 pc
OPW‑TR‑BR
–
M16
Threaded rod mounting bracket for top part of RDF/RSF
1 pc
OPW‑TR‑CM
–
M16
Threaded rod mounting bracket for ceiling installation with OPW‑TR‑16/100 or 200
1 pc