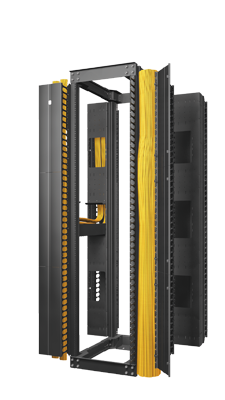 Networking
Communication has always been the basis of the functioning of any society. In modern times, the use of IT has extended the nature and use of communication, through, basically, a network system using cables or wireless technology. Network systems are actually one large switching field, which allows the physical connection of devices to the communication element.
 
To adress your needs, Conteg offers a choice of solutions.
 The basic element is the cabinet, which complies with international standards like TIA/EIA-310-E and others as to the proper storage of computer cabling and IT equipment. For a dedicated solution for network use, we offer the Premium Cabling cabinet RDF or the universal rack iSEVEN RI7. For support of extended company areas, you can choose solutions from our series of wall-mountig racks.
Our comprehensive solutions allow you to store and maintain copper and fiber optic cables with the correct bend radius, thus to avoid unnecessary reduction in transmission quality, both inside and outside the cabinet.

For guides and wiring inside racks you can use the standard cable management support backbone wiring. For Enterprise users, we have developed High Density Cable Management - HDWM. This is an effective way to organize, support and route large quantities of fiber or UTP cabling. The product meets or exceeds the bend radius and tensioning values for OS and OM fiber, Class E and Fa Copper cabling as stated in Industry Standards, for example, ANSI/TIA/EIA-568; TIA/EIA-942A and ISO/IEL-11801, along with the recommendations in major cable manufacturing specifications.
To support external infrastructure cabling, the appropriate product management system we suggest is OPTIWAY. This system allows easy installation of interconnecting patch cords and optical cables according to constantly changing needs.
Our technical specialists will be happy to assist you in choosing the best solution to meet your needs at presales[at]conteg.com.