CONTEG

Products IT

Cable Management

High Density Wire Management
High Density Wire Management
The new range of High Density Wire Managers from Conteg ensures that cabling can be properly managed while maintaining bend radii for today's high-speed data cabling. It also helps optimize network throughput. The innovative design features unique fingers which have radiuses to promote effective bend radius management while maintaining user-friendly operation. The covers for the wire managers feature a unique latching system that allows the covers to be swivelled or removed completely to better access the cable bundles.
MAIN ADVANTAGES:
Reduces risk of attenuation and substantially increases data transmission reliability
Solution for racks and open frames
Innovative approach for backbone and patch cables allow better organization in accordance with industry standards and major cable manufacturer recommendations
New design for 48 patch cords (Cat. 7A) in 1U position
Unbeatable density of patch cords
Bend radius control
Allows installation of up to 2016 patch cords in one rack
Unique front panel latching system
Front or front/rear design layout available
Wide range of sizes usable for typical applications
Comprehensive wire management
Conteg High Density Wire Managers are available in horizontal and vertical configurations with options for front or front and rear fingers. Available in a wide range of sizes, Conteg High Density Wire Managers can be used in rack and/or frame installations and provide excellent cable management regardless of your physical support technique.

Excellent design
High Density Wire Managers come with lightweight aluminum alloy covers, sheet steel or aluminum alloy bases, depending on the size, configuration and plastic T-fingers.

Cable management can have a serious impact on the efficiency of your data transmissions. Poorly managed cables can adversely effect network throughput, while poorly arranged patch cords can make cabling moves, adds and changes difficult to achieve.

Made of high-quality materials
Ease of use - cover can be opened to the right, left or completely removed for unhindered access
Standard or longer version available
New design for 48 patch cords (Cat.7A) at 1U position
Unbeatable density of the patch cords
Allow to install up to 2016 patch cords at the rack
Vertical managers for racks (VMR series) can be used only in 800mm wide racks
Comprehensive solution with excellent design
Available in horizontal and vertical configurations
Effective bend radius management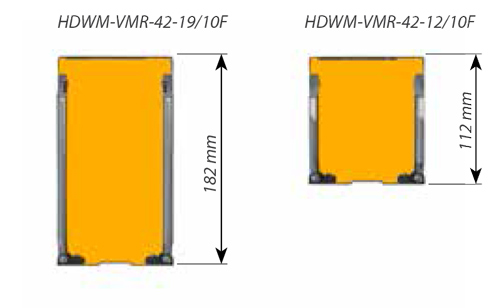 HORIZONTAL HIGH DENSITY WIRE MANAGERS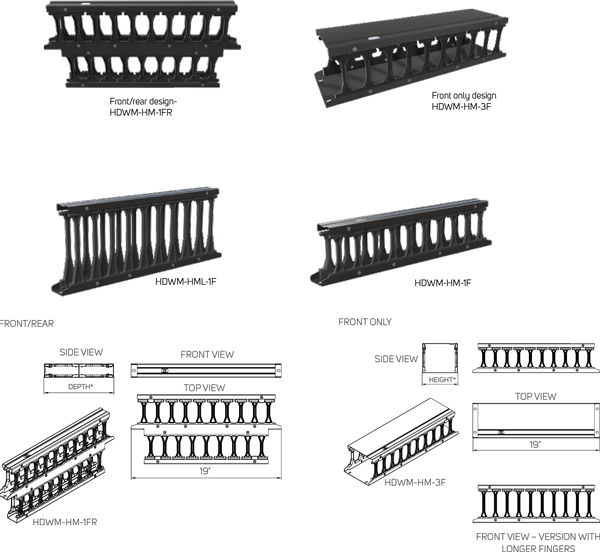 HORIZONTAL HIGH DENSITY WIRE MANAGERS
Code 
Installation 
Type 
No. of fingers
 Dimensions  
Extended version with longer fingers
Package
Front
Rear
H in U
W
D in mm
Code
D in mm
HDWM-HM-1F
Open frame/rack
Front
10
x
1
19"
112
HDWM-HML1F
182
1 pc
HDWM-HM-1FR
Open frame/rack
Front/rear
10
9
1
19"
223
HDWM-HML-1FR
363
1 pc
HDWM-HM-2F
Open frame/rack
Front
10
x
2
19"
112
HDWM-HML-2F
182
1 pc
HDWM-HM-2FR
Open frame/rack
Front/rear
10
9
2
19"
223
HDWM-HML-2FR
363
1 pc
HDWM-HM-2FRB
Open frame/rack
Front/rear, brush
10
9
2
19"
223
HDWM-HML-2FRB
363
1 pc
HDWM-HM-3F
Open frame/rack
Front
10
x
3
19"
112
HDWM-HML-3F
182
1 pc
HDWM-HM-3FR
Open frame/rack
Front/rear
10
9
3
19"
223
HDWM-HML-3FR
363
1 pc
HDWM-HM-3FRB
Open frame/rack
Front/rear, brush
10
9
3
19"
223
HDWM-HML-3FRB
363
1 pc
VERTICAL HIGH DENSITY WIRE MANAGERS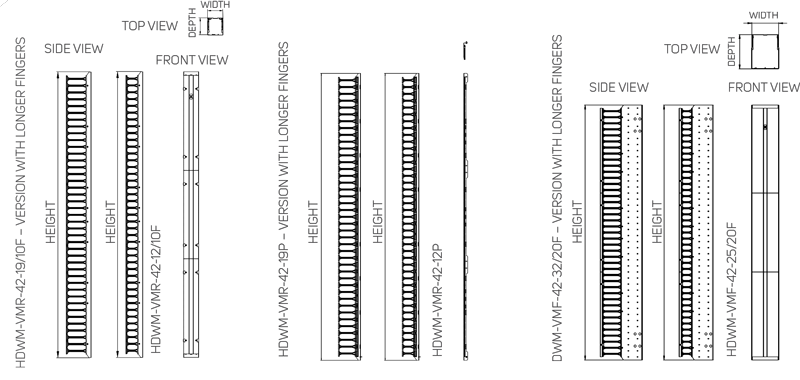 VERTICAL HIGH DENSITY WIRE MANAGERS
Code 
Installation 
Type 
No. of fingers 
Dimensions  
Extended version with longer fingers
Package
Front
Rear
H in U
W in mm
D in mm
Code
D in mm
HDWM-VMR-42-12/10F
Rack
Front
41
x
42
100
112
HDWM-VMR-42-19/10F
182
1 pc of set 1
HDWM-VMR-45-12/10F
Rack
Front
44
x
45
100

112

HDWM-VMR-45-19/10F
182
HDWM-VMR-48-12/10F

Rack

Front

47
x
48
100

112

HDWM-VMR-48-19/10F
182
HDWM-VMR-42-12L
Rack

L-type ext. One Row

41
x
42
-

112

HDWM-VMR-42-19L
182
1 pc of set 2
HDWM-VMR-45-12L
Rack

L-type ext. One Row

44
x
45
-

112

HDWM-VMR-42-19P
182
HDWM-VMR-48-12L

Rack

L-type ext. One Row

47
x
48
-

112

HDWM-VMR-45-19L
182
HDWM-VMR-42-12P
Rack

P-type ext. One Row

41
x
42
-

112

HDWM-VMR-45-19P
182
HDWM-VMR-45-12P
Rack

P-type ext. One Row

44
x
45
-

112

HDWM-VMR-48-19L
182
HDWM-VMR-48-12P

Rack

P-type ext. One Row

47
x
48
-

112

HDWM-VMR-48-19P
182
HDWM-VMF-42-15/20F
Open frame
Front 1
41
x
42
200
151
HDWM-VMF-42-22/20F
221
1 pc of set 3
HDWM-VMF-45-15/20F
Open frame
Front 1
44
x
45
200
151
HDWM-VMF-45-22/20F
221
HDWM-VMF-47-15/20F
Open frame
Front 1
46
x
47
200
151
HDWM-VMF-47-22/20F
221
HDWM-VMF-42-25/20F
Open frame
Front 1
41
x
42
200
251
HDWM-VMF-42-32/20F
321
HDWM-VMF-45-25/20F
Open frame
Front 1
44
x
45
200
251
HDWM-VMF-45-32/20F
321
HDWM-VMF-47-25/20F
Open frame
Front 1
46
x
47
200
251
HDWM-VMF-47-32/20F
321
HDWM-VMF-42-25/30F
Open frame
Front 1
41
x
42
300
251
HDWM-VMF-42-32/30F
321
HDWM-VMF-45-25/30F
Open frame
Front 1
44
x
45
300
251
HDWM-VMF-45-32/30F
321
HDWM-VMF-47-25/30F
Open frame
Front 1
46
x
47
300
251
HDWM-VMF-47-32/30F
321
ACCESSORIES FOR HIGH DENSITY WIRE MANAGERS
Code
Description
Package
HDWM-VMR-19
Bracket for attachment of HDWM-VMR-XX-XX/XXF to 19" profi les (not required for RDF/RSF)
1 set
HDWM-VMR-ACT
Adjustable cable trough - for front-to-rear cable management between front and rear mounted VMR, top radius included, range 440 to750 mm*
1 set
HDWM-VMF-ACT
Adjustable cable trough - for front-to-rear cable management between front and rear mounted VMF, top radius included, range 440 to750 mm
1 set
HDWM-VMR-ACT-L
Adjustable cable trough - Long - for front-to-rear cable management between front and rear mounted VMR, top radius included, range680 to 1 150 mm*
1 set
HDWM-VMF-ACT-L
Adjustable cable trough - Long - for front-to-rear cable management between front and rear mounted VMF, top radius included, range680 to 1 150 mm
1 set
HDWM-VMF-B15
Bracket for attachment of HDWM-VMF-XX-15/XXF to back of open frame (not required for RSG)
2 pcs
HDWM-VMF-B25
Bracket for attachment of HDWM-VMF-XX-25/XXFR to back of open frame (not required for RSG)
2 pcs
HDWM-VMF-BLANK-42
Blank panel kit to close ACT holes for 42U VMF range of wire managers
3 pcs
HDWM-VMF-BLANK-45
Blank panel kit to close ACT holes for 45/47U VMF range of wire managers
3 pcs
HDWM-FSS-50
Fiber storage spools, 50 mm deep, including mounting hardware
1 pair
HDWM-FSS-100
Fiber storage spools, 100 mm deep, including mounting hardware
1 pair
HDWM-VCT-B
Velcro cable belt, 13×5 000 mm, black
1 pc
HDWM-VCT-S
Velcro cable ties-small, 13×190 mm, black
25 pcs
HDWM-VCT
Velcro cable ties, 25×300 mm, black
10 pcs
FRONT DUCT SYSTEM COMPATIBLE WITH VERTICAL HDWM
Code
Installation
Description
Package
HDWM-FDF-S3-20L
Open frame
Front duct system, compatible with HDWM-VMF-xx-yy/20F installed on the left-hand side
1 pc of set 1
HDWM-FDF-S3-20R
Open frame
Front duct system, compatible with HDWM-VMF-xx-yy/20F installed on the right-hand side
1 pc of set 1
HDWM-FDF-S3-20B
Open frame
Front duct system, compatible with HDWM-VMF-xx-yy/20F installed on both sides
1 pc of set 2
HDWM-FDF-S3-30L
Open frame
Front duct system, compatible with HDWM-VMF-xx-yy/30F installed on the left-hand side
1 pc of set 1
HDWM-FDF-S3-30R
Open frame
Front duct system, compatible with HDWM-VMF-xx-yy/30F installed on the right-hand side
1 pc of set 1
HDWM-FDF-S3-30B
Open frame
Front duct system, compatible with HDWM-VMF-xx-yy/30F installed on both sides
1 pc of set 2
HDWM-FDF-S3-20L30R
Open frame
Front duct system, compatible with HDWM-VMF-xx-yy/20F installed on the left-hand sideand HDWM-VMF-xx-yy/30F installed on the right-hand side
1 pc of set 2
HDWM-FDF-S3-30L20R
Open frame
Front duct system, compatible with HDWM-VMF-xx-yy/30F installed on the left-hand sideand HDWM-VMF-xx-yy/20F installed on the right-hand side
1 pc of set 2
HDWM-FDF-S3-EC
Open frame
End cap for front duct system
2 pcs