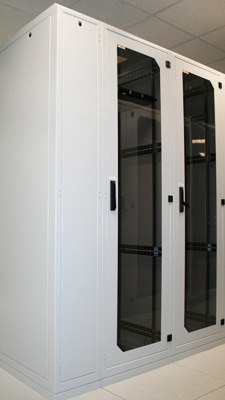 Server Rooms
An IT system is at the heart of companies of all size. This system and its components are typically placed in server rooms. Depending on the type of room and cooling requirements, a choice of layouts is possible. The basics are racks and open frames for servers, disk arrays, central network switches and optical and metallic cables. In this section, you can find a summary of all recommended  and other components for cooling, power management, fire protection and monitoring. For cooling, we recommend the modular closed loop. 
R2U Complete housing for IT
Ready-to-Use (R2U) brings you a rack for installation of IT components equipped with basicsafety features, cooling and monitoring. Thanks to several variants and a wide range ofaccessories, the R2U arrangements are useful for all applications. This product consists of onlyhigh-end Conteg components specially assembled to meet the requirements of every client.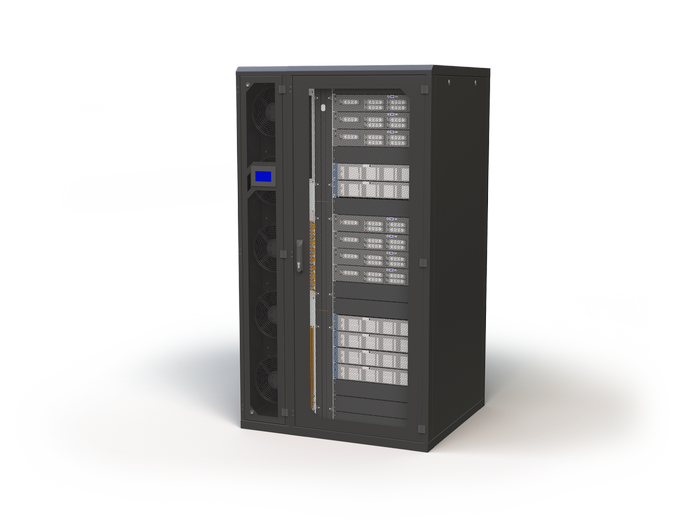 Our Basic Solution Contains:
Rack
Premium rack RSF (RSF-42-80/12U-GWSWM-MCL-E )
Height 42U, width 800 mm, depth 1200 mm
Glass front door, full rear door
Load rating 1500kg, IP 55
Monitoring System
Ramos Mini monitoring system
Front and rear temperature control
Emergency opening system for automatic door opening in case ofoverheating
Power Distribution
Basic PDU powers the IT component after installation (11kW, plugEN 60309, power cord 3m, outlets - 24xC13 and 3xC19, split into8xC13 + 1xC19 phases, current rating 3x16A)
Outdoor air conditioning unit powered separately, indoor eitherpowered separately or from one PDU phase
Air Conditioning
Indoor air conditioning units CoolTeg Plus DXSmall - direct expansion with cooling capacity 3-7 kW (AC-TDS-42-30/100-BCD-01000000) + outdoor air conditioning units with inverter driven scroll compressor (AC-PUHZ-ZRP71V)
Extras:
Optional Accessories:
LesRack - extinguishing system
Ramos Ultra - monitoring system with GSM module, smokesensor, water level sensor, monitoring of CoolTeg units viaModBus TCP/IP

100 mm or 200 mm plinth
Blank panels of various sizes
High Density Wire Management
SNMP card in CoolTeg units
First Start-up service
Cooling Capacity Variations:
Direct expansion with cooling capacity 5-12 kW(indoor AC-TDX-42-30/100-BCD-01000000+ outdoor AC-PUHZ-ZRP125Y)

Direct expansion with cooling capacity 7-20 kW(indoor AC-TDX-42-30/100-BCD-01000000+ outdoor AC-PUHZ-RP200Y)

Connection to chilled water systemwith cooling capacity up to 30 kW(AC-TCW-42-30/120-BCD-01000000)
| | | |
| --- | --- | --- |
| Basic Arrangement: |   | Alternative Arrangements: |

R = Rack C = Air Conditioning Unit
Don't hesitate to ask our specialists for a consultation. We will prepare a comprehensive offer to your exact requirements.