Industry Solutions
Industrial enclosures are used mainly for power distribution in low-voltage industrial buildings, electrical substations, office complexes, and other facilities. The content of these cabinets is very diverse, and varies according to application type, which serves as either a power distributor, a distributor for working machines, a distributor for controlling the front wall adapted for use, or for other purposes.
inTEG, our industrial enclosures, can be leveraged for industrial solutions. Some common features of our product lines include their variability, a wide range of accessories, and ease of compatibility with customer solutions. Our enclosures are made of either steel or stainless steel, with a powder finish using standard RAL 7035.
Industrial enclosures are produced along two integrated design lines:
inTEG Free-standing industrial enclosures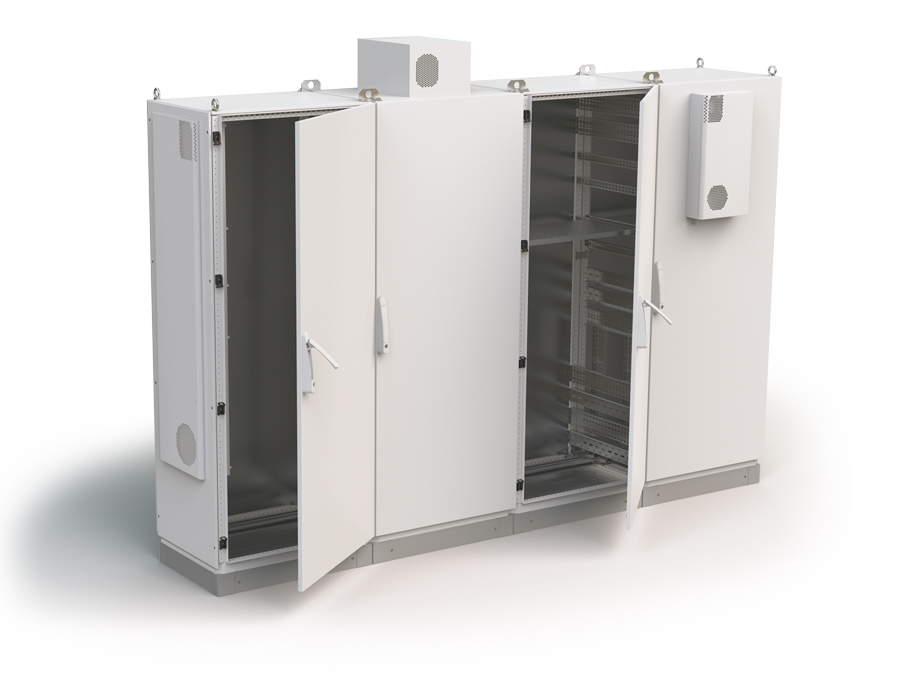 Free-standing inTEG enclosures are our key products. The welded  cabinet frame is made of a special profile of cold-rolled galvanized steel. This production process, coupled with the patented profile, meets the maximum requirements for cabinet stiffness and load capacity. Customers can choose from 46 sizes, in either a one- or two-door version. Our enclosure standards have a high degree of IP55 protection, a nonporous polyurethane gasket around the perimeter, with a capacity of 1500 kg. Our inTEG enclosures can be used without an additional base; due to the design of the bottom frame, this solution does not diminish the scope for internal installation. Additional mounting levels offer a rich array of system accessories, designed for optimal interior use. Our thermal management solutions for enclosures, depending on the type of installation, will propose concrete achievements in heating units, filter fans, or active air-conditioning units.
inTEG compact wall-mounted enclosures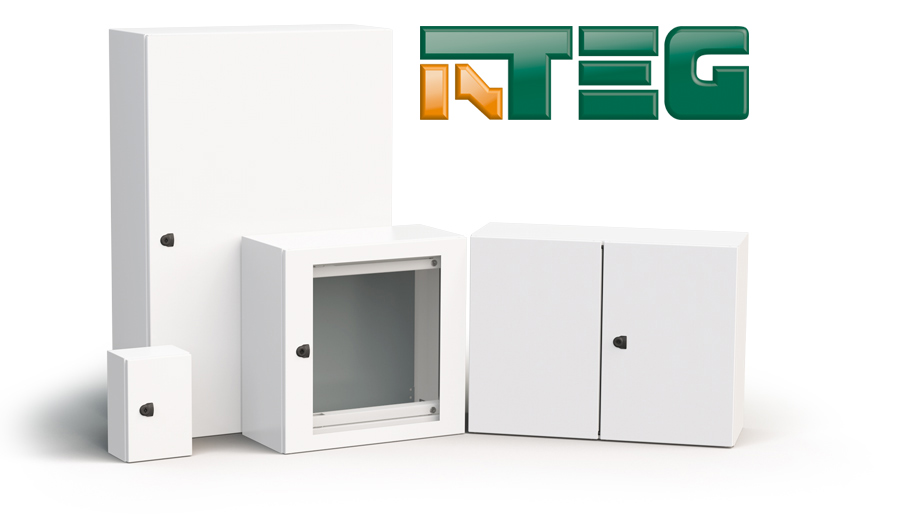 Our inTEG wall-mounted enclosures are one of our most versatile devices, having the widest range of applications for any industrial applications. Wall-mounted inTEG enclosures are designed for both electrical engineering companies and machinery and equipment manufacturers, who can choose from 54 sizes, with full or glass door models. Thanks to the latest laser welding technologies, our group of inTEG compact enclosures is clean and unique in design. The menu supplemented by a series of stainless steel cabinets (AISI 304/316) and outdoor industrial distributors, made of stainless steel, with a surface finish to meet increasing demands for resistance to the surrounding environment. Our single-door series have IP66 protection, while our double-door series carry IP55 protection. Our cabinets come ready for rapid internal equipment assembly.
Our technical specialists will be happy to suggest the optimum solution for your needs.
For more information, please contact us at industry@conteg.com.