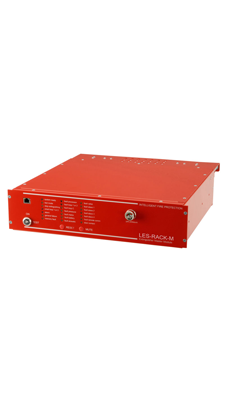 CONTEG

Products IT

Complementary Systems

Local Extinguishing Systems
Local Extinguishing Systems
LES-RACK is a self-contained, fully automatic detection and fire protection system. Designed for 19" racks, this systems offers a very efficient and effective solution for protection of equipment in all types of racks and cabinets. The LES-RACK M system includes a fully equipped automatic  fire detection evaluation, and communication systems as well as fire extinguishing capabilities. Larger-sized server racks and adjacent cabinets may be protected by additional auxiliary units. The LES-RACK S system comes with a detection and communication systems and fire extinguishing capabilities. The LES -RACK can be integrated into all racks with IP30 or higher.
In case of fire, the LES-RACK system flood the protected space with clean gas and maintains required extinguishing concentration inside the racks. The extinguishing unit includes metal pressure cylinders that are filled with an extinguishing mixture (clean extinguishing gas HFC-236fa Hexafluoropropane), certified by the Technical Institute of Fire Protecion. This medium is environmentally friendly and meets the stringent European and global standards. The extinguishing effect is a combination of physical and chemical reactions, which cause no damage to equipment or materials.
Each LES-RACK device is equipped with pair of optical fire detectors, which in order to eliminate false alarms, are connected to the evaluation and control unit. The integrated control unit indicates the system's current status and controls and evaluates the extinguishing unit. The LES-RACK M system communicates with the fire alarm control panel (FACP) in the building and reports pre-alarm, alarm and extinguishing statuses.
LES -RACK comes in the following versions:
LES-RACK Master - basic unit with control module
LES-RACK Slave - expansion unit without the control module
Detectors placed inside the cabinet can immediately detect a fire in initial stage
Extinguishing fire immediately after detection.
Extinguishing process does not cause any damage to the equipment
Easy installation - simply plug into the main switchboard.
It is recommended for racks with IP30 or higher.
Detectors and modular design allow for easy inspection and maintenance.
Detailed and easy-to-read LED panel
Modest space requirements - rack that are 19" tall only occupy three units (3U )
Built-in battery ensures operation even during a power outage
LOCAL EXTINGUISHING SYSTEM (LES-RACK)
Code
Description
LES‑RACK‑M
Fire detection, control, evaluation, communication and fire-extinguishing unit
LES‑RACK‑S
Detection, communication and fire-extinguishing unit
LOCAL EXTINGUISHING SYSTEM (LES-RACK)
LES‑RACK parameter
Value
LES‑RACK parameter
Value
Unit width
483 mm / 19"
Electrical input power
max. 40 VA
Unit height
105 mm / 2.5U
Protection rating
IP30
Unit base depth
382 mm
Shielding class (non‑interference)
RO2
Total depth of detection extension,according to depth of protected equipment
Max. 750 mm
Supply voltage of main source
230 V ± 15 %
System weight
15.5 kg ± 3 %
Supply frequency of main source
50 Hz
Weight of extinguishing agent
2 kg

Maximum current supplied by main source

1.25 A
Classification of environmental conditions (according to EN 60 721‑3‑3)
3 k5

Standby current

210 mA
Environment class
A

Current consumption during pre‑alarm

300 mA
Operating temperature range
‑5 °C to 50 °C

Current consumption during alarm

2 A
Relative air humidity
95 % non‑condensing

Max. current consumed by outputs in standby

40 mA
Atmospheric pressure
70 to 106 kPa

Max. current consumed by outputs during alarm

0.5 A
Operating position
Horizontal – uppermost position

Max. output voltage on terminal X32(batt. recharge)

13.7 V
Operation
Permanent

Max. current from terminal X32 (batt. recharge)

200 mA
Operating pressure at 20° C
10 bar

Backup power source (150×94×65 mm)

12 V / 7.2 Ah
Maximum operating pressure
16 bar

Maximum volume of protected cabinet(perforated – min. IP30)

1.5 m2
Shielding(according to ČSN EN 55 022)
Class-B device

Maximum volume of protected cabinet (closed)

3 m2