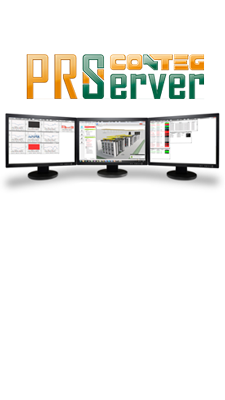 CONTEG

Products IT

Complementary Systems

CONTEG Pro Server Management Software
CONTEG Pro Server Management Software
Try It now!

CONTEG Pro Server is designed to centralize monitoring devices, allowing you to:
Manage Ramos Ultra ACS, including its history
Centralize all Ramos devices in one application
Support integration of third-party SNMP devices
Manage mapping and history of integrated sensors
Support third-party IP cameras for online surveillance and recording
Utilize secure remote access to the server application  
CONTEG Pro Server:

CONTEG Pro Server puts you in control of a full range of monitoring technologies. Manage cameras, environmental sensors, access control equipment and various other monitoring resource, locally or remotely.

CONTEG Pro Server automatically recognizes cameras, sensors, detectors and access control hardware. It's instantly compatible with hundreds of third-party cameras. Use the quick wizards to configure your preferences and parameters. Set your group policies for Administrators and Limited users and specify access control privileges for physical and logical resources via the "Access Control" section.

Scan your device IP addresses or see them at a glance on multi-layered overlays. Allocate multiple workspaces for monitoring and control, and use the graph and mapping features to illustrate your sensor environment locally or over a remote site installation.

CONTEG Pro Server software runs on any Windows-based laptop, PC or server.  This application is compatible with other third-party cameras using our unique algorithm that finds the best configuration for each camera. Supported video format is MJPEG. 

CONTEG Pro Client:

The security client gives access to additional servers. Using the console as a single point of management, the administrator can configure and manage all recording servers, devices/cameras and users.

Useful functions:
Access management – users, groups and history of access
Monitoring management – sensors, detectors, access and video surveillance
Customizable Mapping feature
Support many types of third-party IP cameras and can create records
Escalations with many types of actions/alarms
Customizable client access to the server
Can be shown on many screens /desktops
Minimum System Specifications for CONTEG Pro Server:
CPU: Intel® Xeon®, 2.0GHz or higher (Dual-Core recommended)
Network: Ethernet (1Gbit recommended)
Graphics Card: Onboard GFX, AGP or PCI-Express, minimum 1024x768, 16 bit colors
Hard disk space: Minimum 100GB free (depends on number of servers, cameras, rules and logging settings)
OS: Microsoft® Windows® XP1 Professional (32 or 64 bit) or Windows Server 2003 (32 bit)
Minimum System Specifications for CONTEG Pro Server Client:
RAM: Minimum 1GB (2GB or more recommended)
Network: Ethernet (1Gbit recommended)
Graphics Card: Onboard GFX, AGP or PCI-Express, minimum 1024x768, 16 bit colors
Hard disk type: E-IDE, PATA, SATA, SCSI, SAS (7200 RPM or faster)
OS: Microsoft® Windows® XP1 Professional (32 or 64 bit) or Windows Server 2003 (32 bit)