CONTEG

Products IT

Free-Standing Racks

PREMIUM Server RSF
PREMIUM Server RSF
The PREMIUM Server RSF rack is a best in class server cabinet designed for data centers, equipment rooms and network or telecommunication closets. The RSF's heavy-duty, all-welded construction and 1500 kg load rating allow it to accommodate heavy equipment within a standard rack footprint.
MAIN ADVANTAGES:
Pure server rack for heavy IT hardware (up to 1500 kg in weight and 52U in height)
Fully configurable
Unmatched 86% door perforation ratio decreases server fan power consumption
Two unique extrusion types allow you to choose the best solution for your application
Racks with 800 mm widths provide an additional 12x2U usable space.
42U => 66U
45U => 69U
48U => 72U
52U => 76U
The PREMIUM Server RSF 19" Computer Enclosures comes with a full range of door, panel and lock options. Available in various height configurations and depths, the RSF is designed to work with Conteg's air-flow optimization solutions and flexible cable management, which means the RSF can be tailored to suit your needs.
  
Height: 27, 42, 45, 48, 52U (52U not available for 800 mm depth)
Width: 600 or 800 mm
Depth: 800, 1000, 1200 mm (1200 mm not available for 27U)
Load rating: 1500 kg balanced load (1000 kg available for 27U only)
Doors: 10 types of doors for front and rear installation; 8 types of locks; door opening angle 180°; can be easily change to open on right or left
Top plate: Single-piece design, removable, can be replaced by other types
Bottom plate: Segmented design, rounded cable entry covered with plastic caps
Side panels: 2 designs available, removable with an option of 2 types of locks.
Feet and castors: adjustable feet, castors
Extrusions: 2 pairs; A-profile (600 mm) or A-profile (800 mm) with up to 3x2U additional 19" vertical positions per extrusion, without supporting holders in the middle
IP rating: standard IP20, IP40 when solid doors or panels applied, up to IP54 optional
Color design: powder coated RAL 7035 or RAL 9005, other color options available
Air-conditioning: compatible with top mount, wall mount, and side mount A/C & cooling units - CoolTeg and CoolSpot
Standard configuration
Front and rear vented door (86% perforation rate) with multipoint swivel handle lock

2 pairs of 19" sliding extrusions

1 pair of side panels with lock, adjustable feet

removable F-design top plate with cable entry openings

removable segmented bottom plate set (consists of C and F design plates, may differ for other

rack footprints) with cable entry openings, plastic caps and blank panels for cable entry openings

GND/earthing kit

28x mounting kits

2 rounded cable grommets with brush DP-KP-RB4
TECHNICAL DRAWING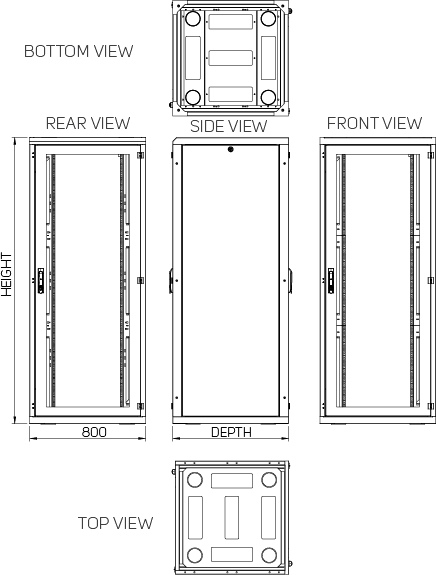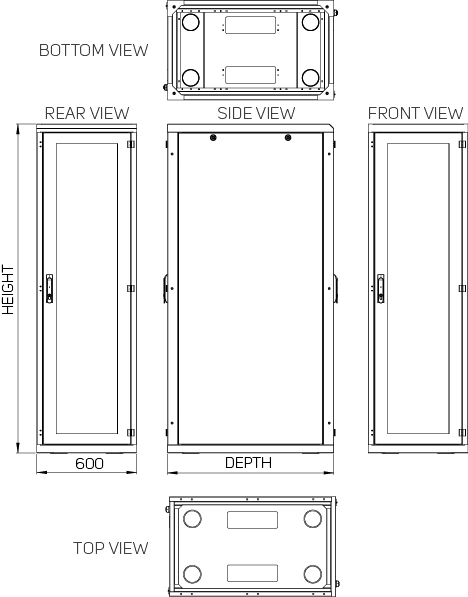 TOP PLATES - F Design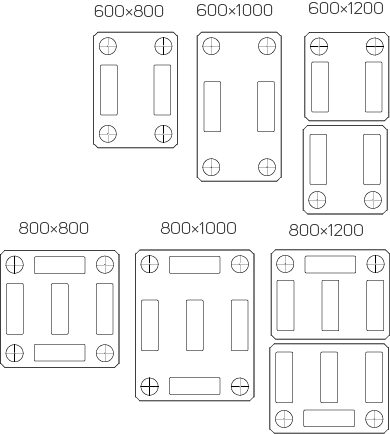 BOTTOM PLATES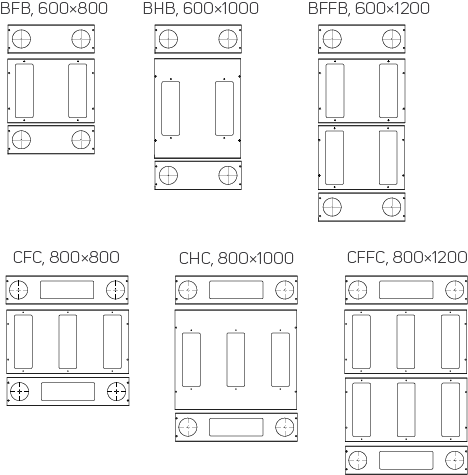 PREMIUM RSF
Code
H (in U)
Load Rating
Dimensions (mm)
Dimensions incl. packing (mm)
Gross weight (kg)
H*
W
D
Useful depth
H
W
D
RSF‑27‑60/8A
27
1000
1311
600
800
731
1500
640
840
85
RSF‑42‑60/8A
42
1500
1978
600
800
731

2160

640
840
112
RSF‑45‑60/8A
45
1500
2111
600
800

731

2290

640

840
119
RSF‑48‑60/8A
48
1500
2245
600
800

731

2430

640

840
123
RSF‑27‑60/10A
27
1000
1311
600
1000

931

1500

640
1040
109
RSF‑42‑60/10A
42

1500

1978
600

1000

931

2160

640

1040

135
RSF‑45‑60/10A
45

1500

2111
600

1000

931

2290

640

1040

142
RSF‑48‑60/10A
48

1500

2245
600

1000

931

2430

640

1040

148
RSF-52-60/10A
52

1500

2423
600

1000

931
2608
640

1040

156
RSF‑42‑60/12A
42

1500

1978
600
1200

1131

2160

640

1240

149
RSF‑45‑60/12A
45

1500

2111
600

1200

1131

2290

640

1240

170
RSF‑48‑60/12A
48

1500

2245
600

1200

1131

2430

640

1240

178
RSF-52-60/12A
52

1500

2423
600

1200

1131

2608

640

1240

189
RSF‑27‑80/8A
27

1000

1311
800
800

731

1500

840

840

100
RSF‑42‑80/8A
42

1500

1978
800
800
731

2160

840

840

134
RSF‑45‑80/8A
45

1500

2111
800
800

731

2290

840

840

141
RSF‑48‑80/8A
48

1500

2245
800
800
731

2430

840

840

147
RSF‑27‑80/10A
27

1000

1311
800

1000

931

1500

840

1040

124
RSF‑42‑80/10A
42

1500

1978
800

1000

931

2160

840

1040

157
RSF‑45‑80/10A
45

1500

2111
800

1000

931

2290

840

1040

165
RSF‑48‑80/10A
48

1500

2245
800

1000

931

2430

840

1040

173
RSF-52-80/10A
52

1500

2423
800

1000

931
2608
840

1040

184
RSF‑42‑80/12A
42

1500

1978
800

1200

1131

2160

840

1240

175
RSF‑45‑80/12A
45

1500

2111
800

1200

1131

2290

840

1240

198
RSF‑48‑80/12A
48

1500

2245
800

1200

1131

2430

840

1240

208
RSF-52-80/12A
52

1500

2423
800

1200

1131

2608

840

1240

220

* Height in mm without feet; for feet add 16–45 mm