CONTEG

About CONTEG

Company Information
Company Information
Conteg is one of the biggest producers of IT and industrial racks, and data center solutions in EMEA. In our product portfolio, you can find telecommunication, data, industrial and outdoor racks; complete solutions for data centers including systems of precision cooling, intelligent power distribution, monitoring systems and cable management systems. 
Headquarters:
Na Vítězné pláni 1719/4
140 00 Prague 4
Czech Republic

Tel: +420 261 219 182
Fax: +420 261 219 192

 

Production Facilities and Central Warehouse:
K Silu 2179
393 01 Pelhřimov
Czech Republic

Tel: +420 565 300 300



 
Our innovative and modular products and solutions are in line with current industry trends. Their quality and functionality can be endorsed by our global customers. They are used throughout the IT industry when deploying servers, UPS and other components and to manage the structured cabling systems both inside and outside the racks. 
The main values that we bring:
| | |
| --- | --- |
| RESPONSIBILITY | We put great emphasis on quality in order to deliver first-class products, services and solutions to our customers. During production, we use only the latest technologies and highest quality components. We produce all our products in the Czech Republic under the supervision of experienced engineers and inspectors to meet the world quality standards. |
| EFFECTIVENESS | Effective use of our extensive business and technical knowledge and experience has allowed us to apply new services, products and applications to the market which bring original and smart solutions to our customers while maintaining as favorable a ratio between quality and price as possible. |
| INNOVATION | We believe that there is always a better and more effective solution.  We follow the latest trends and requirements of our customers and make use of this knowledge when developing and improving our products, services and processes, so that we can always exceed your expectations. |
| PARTNERSHIP  | Our future depends on our partners, which is why we focus on their needs and always offer the most optimal solutions. Our aim is to build mutually beneficial long-term relationships. |
Emphasis on Quality
Quality is our priority, therefore we do everything to ensure that our products are among the best available in the market, matching the services provided by our company. We aim to provide our customers with the highest possible added value. For this reason we apply strict ISO 9001 quality management standards at Conteg. All racks undergo a strict testing regime to obtain TÜV certificates. More information, including copies of our certificates can be found on the Quality Commitment & Guarantee page.
Conteg products are meticulously constructed from quality materials which comply with technical and environmental specifications and are thoroughly tested and inspected prior to leaving our manufacturing facility. You can be assured that when purchasing a Conteg product that you have selected a product of the highest quality and reliability.
Conteg group in numbers
Established: 1998 in Prague, Czech Republic
Production Plants: 3
Production Area: 23 250 m²
Overseas Branches: 10
 
History
1998 - one type of a stand rack
1999 - new series RSV, RSH, RSD; basic accessories assortment
2000 - new series ROV
2001 - new series RSH, RON, ROD
2002 - new series REN
2003 - new series REV
2004 - new series RUN, RUD
2005 - new series ROF
2006 - new series RSL
2007 - new series ROS, RMF; a data center solution's development ...
2008 - new series ACP, KVM/LCD, Targeted Cooling; completion of the solution for data centers
2009 - new series SEVEN; facelift of ROF, RON, ROD series; Total Solutions for Data Centers
2010 - new rack series PREMIUM; Side mount closed loop solutions
2011 - construction of a new multipurpose building at the factory in Pelhřimov, units CoolTeg XC, system AEGIS DCIM,facelift RMF rack, Modular Closed Loop Architecture
2012 - opening of new multi-purpose building and TestCenter for Data Centers in Pelhřimov. New products: outdoor cabinet outTEG series, OPTIMAL Cable Management rack, Side-to-Side Airflow Support - STS, EC technology fans for cooling, Rack Monitoring Systems – RAMOS Ultra, Optima & Mini, upgrades made to OptiWay, new HDWM, new PDUs, new Separation Frames, Mounting & Connecting Kits
2013 - CoolTeg Plus Cooling units, innovation of PREMIUM Housing RSB racks, New products: PDU holders, Top duct – Cable Management, Industry - Climate Control Solutions
2014 - New production hall, launch of the outTEG configurator, New product line Industry Enclosures: inTEG Compact Enclosures, inTEG Freestanding Enclosures + Climate Control Solutions; New CoolTeg Plus DX Small Cooling Unit, Conteg Pro Server monitoring DC, IT rack improvements
2015 - R2U Ready-To-Use solutions, configurator for DC, configurator for IT enclosures, Advanced Pressure Control, unique CoolTop cooling system, RSF 52U, extension of the RAMOS access system, IT rack portfolio extension and optimization
Sales partners: in 60 countries on 3 continents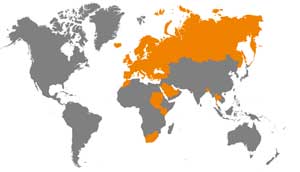 Local Branches and Showrooms:
Products Conteg    /    Data Centers   /    Sales Representatives
Conteg's trademarks signify our high quality products and services, which are valued assets of the company. The following is a list of Conteg's trademarks and registered trademarks in the Czech Republic and worldwide. Please note, however, that this listing is not all-inclusive and the absence of any mark from this list does not mean that it is not a Conteg trademark. Our products are protected by international community designs.
Our trademarks:
Conteg ®
OPTIWAY ® - Management system for your fragile optical cables.

CoolTeg ® - Cooling units

CoolSpot ® - 

Cooling units

RAMOS ® -  Rack Monitoring Systems

outTEG ® - Outdoor cabinets