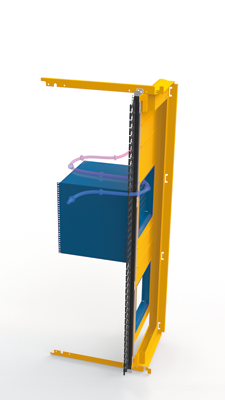 CONTEG

Products IT

Targeted Cooling & Ventilation

S-T-S Airflow Support
S-T-S Airflow Support
Side-to-Side Airflow Support solution allows you to use high-speed network components near servers. Components can be placed in server rooms and data centers or any place without limitations. This layout can greatly impact data center efficiency.
Support of:
Hot/Cold Aisle
Contained Aisle
Chimney solution
Modular Closed Loop
Rack width: 800 mm
Rack depth: 1 000 or 1 200 mm
Doors: Front and rear vented doors, 86% of perforation, multipoint lock with DIN profile, key 333
Rating: Load rating up to 1 000 kg depending on the frame type
Extrusion: The P-type of extrusion on the left front side, installation of vertical HDWM-VMR-42-12/10F is possible.
Blank panels for side deflector are included for all positions
Frame for separation of hot and cold air space
Clearance between the chassis and side panels is 170 mm 
Standard High Density Wire Management bar on the right front side for effective cable management
Adaptors for various types of the network chassis - CISCO, JUNIPER, AVAYA, HUAWEI etc. (Adaptors need to be ordered separately). Enables combination of several types of the network chassis in one rack
Parts of the network chassis allow for cable management only on right side. It is possible to use HDWM-HM-3F to guide these bundles of cables to the other side above and below the chassis, into another installed cable manager - HDWM-VMR-42-12/10F.
SIDE-TO-SIDE AIRFLOW SOLUTION (STS)
Code
Product
SIDE-TO-SIDE AIRFLOW SUPPORT
RSF-42-80/100-WWWWA-SE1
RSF, 42U×800×1 000, S-t-S Airflow solution, Size 1
RSF-42-80/120-WWWWA-SE1
RSF, 42U×800×1 200, S-t-S Airflow solution, Size 1
RSF-42-80/120-WWWWA-SE2
RSF, 42U×800×1 200, S-t-S Airflow solution, Size 2
Heights of 45 and 48U available upon request
Side-to-Side Airflow Support - Accessories
Code
Product
Package
DP-STS-EXT-2-42*
Side extension kit 100mm for Airflow support (rack height 42U, depth 1200 mm)
1 pc
DP-STS-EXT-2-45*
Side extension kit 100mm for Airflow support (rack height 45U, depth 1200 mm)
1 pc
DP-STS-EXT-2-48*
Side extension kit 100mm for Airflow support (rack height 48U, depth 1200 mm)
1 pc
DP-STS-1-SACH
Airflow supporting channel for chassis S-t-S - Size 1
1 pc
DP-STS-2-SACH
Airflow supporting channel for chassis S-t-S - Size 2
1 pc
* Min. ordering quantity: 2 pcs