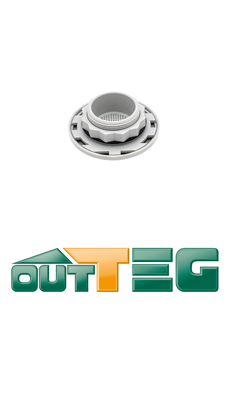 CONTEG

Products IT

Outdoor Cabinets

Accessories outTEG

Pressure Compensator
Pressure Compensator
The pressure compensator device is used to maintain a preset pressure differential between the outside and inside of the outTEG cabinet to prevent the ingress of dust and to keep water from forming inside the cabinet due to changes in pressure. When sealed outdoor cabinets are exposed to pressure variation due to changing climatic conditions, condensation may form inside. The addition of a pressure compensator along with the integral sealing membrane largely prevents such pressure differences and hence eliminates condensation. Additionally, these two features also prevent the ingress of moisture from the outside.
Mounting: Threaded PG 29 cable gland with union nut
Fitting position: vertical¹
Torque: 5 Nm (max. 10 Nm)
Material: Light Gray UL94 V-0 compliant plastic
Sealing: Nitrile (NBR) sealing gasket
Air interface: 1,5 cm²
Operating/storage temperature: -45 to  +70 °C (-49 to  +158 °F)
IP rating: IP 55
Dimensions:  Ø 65,5 mm x 30,5 mm
¹ To achieve the listed IP55 protection rating the pressure compensator must be mounted vertically.  Pressure compensators not mounted vertically results in an IP54 rating.