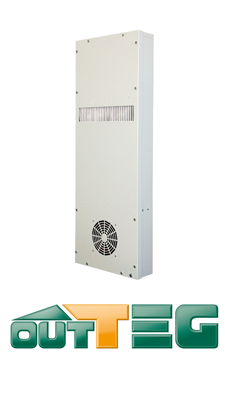 CONTEG

Products IT

Outdoor Cabinets

Outdoor Climate Control

Air/air Heat Exchangers
Air/air Heat Exchangers
Air/air heat exchanger provides more effective heat dissipation without mixing the outside and inside circuit. These units can only be used if external ambient temperature is lower by at least 5 °C than the cabinet internal temperature required. Segregation of inside and outside air protects electronic equipment installed in the cabinet from outside air pollutants.
Specific heat transmission:  30, 60, 100 a 160 W/k
Operation temperature limits: -20 °C/+55 °C 
Color: RAL 7035
IP rating:  IP54
Installation options: in the side panel (standard)
Note: The unit is assembled and supplied connected to the outTEG cabinet.