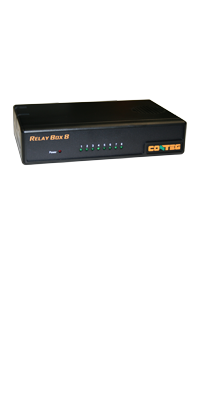 CONTEG

Products IT

Complementary Systems

Rack Monitoring Systems - RAMOS

Accessories RAMOS Ultra/Optima

RAMOS Ultra Relay Box 8
RAMOS Ultra Relay Box 8
The Relay Box 8 is a specially designed multi-port relay for advanced process control. The Relay Box 8 is easily controlled by any RAMOS sensors or detectors. The relay can provide automatic responses to sensor status changes. Setting up the Relay Box 8 is easy thanks to its built-in auto-sense feature and user-friendly web interface.
The automatic response to sensor changes gives users more flexibility when responding to environmental alerts. The automatic response eliminates the need for user intervention during the alarm condition, as it will automatically switch On/Off crucial equipment thus avoiding any substantial damage.
Power switching
On/Off control for cooling equipment
Activating alarms
Process control
Energy management systems
Relay Box 8 is compatible with RAMOS Ultra devices only.
Require power supply 7.5 VDC (RMS-U-PW)
Order code: RMS-U-RB-8
8 changeover relay contacts
Provide 3 positions Terminal Block which includes Normally Open, Normally Close and Common
8 LEDs indicate the status of the Relay and 1 LED indicate a Power
PCB, Connector and Contacts rated up to maximum 5A 30VDC, 1A 220VAC
Up to 64 (8 relays per RJ45) relays per Ramos Ultra device
Require power supply 7.5VDC (RMS-U-PW)
Relay Contact Rating

Contact material: AgCdO
Carry current: 16 A
Max. operating voltage: 380 VAC, 125 VDC
Max. operating current: 16 A
Max. switching capacity: 4000 VA, 480W with resistive load 2000 VA, 240W with inductive load (P.F=0.4)
Power consumption: Typically 2.475 Watt, 0.495 A

Full auto-sense including disconnect alarm
19" mounting brackets included
1.5 m LAN cable for sensor connecting is included
Connects to Ramos Ultra with standard patch cable CAT5/6
Size: 216x138x46mm
Operating temperature: -40°C - +85°C
Storage temperature: -40°C -  +85°C