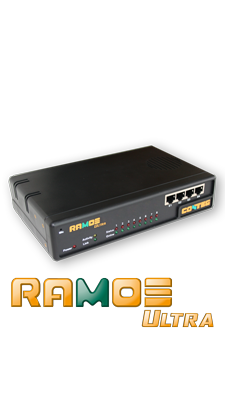 Ramos Ultra
RAMOS Ultra is an excellent solution for server rooms and data centers requiring from 8  up to 500 sensors  when using expanders. Expanders create wide monitoring networks. RAMOS Ultra is also suitable for designs that require sensor mapping and GSM gateways without additional software applications.
RAMOS Ultra uses an open Linux Operating System. It is TCP / IP compliant and runs a Lighttpd web server that includes https (SSL), Bash, Perl, Telnet, PHP, Email and Nagios. RAMOS Ultra has an easy-to-use web-based user interface for sensor configuration, data collection and extensive graphing. Complete SNMP functions, including  SNMP v3 encryption are also supported. RAMOS Ultra also supports Modbus Master/Slave, Modbus RTU and Modbus over TCP/IP creating a customized, easy to configure Modbus to SNMP gateway. The web-based interface is written in PHP allowing the user to change language settings or add another language. RAMOS Ultra has a battery-operated clock for accurate record-keeping.
RAMOS Ultra can record all events in its database with a time stamp of an alarm event and action taken. A stand-alone product with no external software dependencies, RAMOS Ultra gives you the very best for your monitoring needs. It has 8 auto-sense intelligent sensor ports which work with a wide range of RAMOS intelligent sensors. It can use any combination of sensors to monitor temperature, humidity, water leakage, airflow, security and even control relays. RAMOS sensors can also be used to detect AC voltage and measure DC voltage. Our sensors include an integrated data collection and graphing package to spot trends in the airflow, temperature and humidity.

RAMOS ULTRA FEATURES:
Monitors up to 500 intelligent sensors using expansion modules (RAMOS ULTRA-EX-O16 and RAMOS ULTRA-EX-I8)
Each intelligent sensor port can be set to be input or output
Compatible with complete range of RAMOS intelligent sensors
All RAMOS Ultra accessories are powered by monitoring device
Built-in notification features email and SNMP traps
Receive notifications of events via email, SMS / MMS, SNMP traps and much more.
Integrates with Network Management Systems via SNMPv1 and Encrypted SNMPv3.
Fully embedded TCP/IP and web-server
Network Management System integration
Full User and Group management
Up to 80 Virtual sensors for monitoring power, Modbus, network devices, and other SNMP-based equipment.
Built-in graphs and data logging, internally or to a remote PC.
Syslog history on internal memory or on external Syslog server
An icon library of sensors or detectors is available to drag and drop onto uploaded images for more efficient locating.
The web-based interface is written in PHP allowing the end-user to changes language preferences or create own translation.
Free firmware upgrades and utilities from Conteg.
Internal Linux web-based interface for easy configuration and monitoring
Battery-operated clock for accurate date and time
Stream sensor information directly to your mobile phone or PDA.
Simple to connect to external GPRS/GSM modem, Bluetooth and WiFi USB adapters.
Full Modbus support: Modbus Master/Slave, Modbus RTU, Modbus over TCP/IP
SD card slot for extending memory for history (up to 32 GB). SD card is not included.

Size: 216x138x46 mm
Voltage: 7 – 9 VDC; 3 A
Typical Power Consumption: 5.025 W; 0.67 A
Weight: 1 kg
| | |
| --- | --- |
| File type | Language version |
Datasheet Ramos Ultra (PDF - 0.96MB)