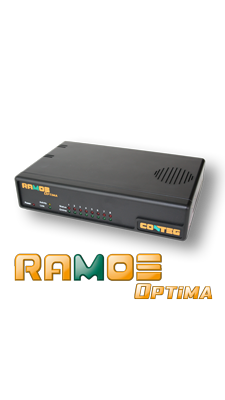 Ramos Optima
This is a middle-size solution suitable for projects that don't require more than 8 intelligent ports for sensor connection , (e.g. with 8 dual sensors [Temp. + Hum.] to obtain up to 16 values). Each intelligent port provides power for accessories and can be either an input or output.
For connection to the LAN the unit comes with an Ethernet port, requiring only a standard CAT5e or CAT6 cable.
RAMOS Optima comes with an internal history, which can be downloaded and presented in either tabular or graphic format. Firmware is built on the open Linux OS Platform which is reliable and user-friendly. Optima is able to store  a running history of SYSLOG events. This is an ideal solution for groups or pods of racks.
Supports up to 8 intelligent ports with auto-sense function
Each intelligent port can be set to input or output
Intelligent accessories are powered by the unit. No additional power needed.
Built-in notification features via email and SNMP traps
Fully embedded TCP/IP and web server functionality
Internal Linux web-based interface for easy configuration and monitoring
Battery-operated clock for maintaining an accurate system date and time
Network Management System integration
User and administrator login for higher security
| | |
| --- | --- |
| File type | Language version |
Datasheet Ramos Optima (PDF - 0.96MB)
dataCollectG3.5.exe (EXE - 0.09MB)
Configure3.3.exe (EXE - 0.39MB)
Firmware Ramos Optima