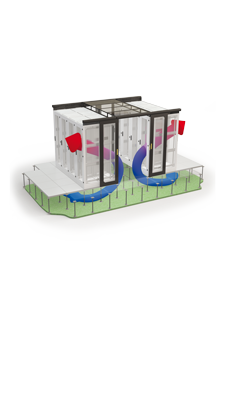 CONTEG

Solutions

Data Centers

Total Solutions for Data Centers

Contained Cold Aisle
Contained Cold Aisle
One of the potential drawbacks with the open Hot/Cold aisle arrangement is the risk of hot air recirculation and hot-spots. With Conteg Contained Cold Aisle (CCA) solution, the containment system is used to physically separate cooled air from hot exhaust by forming a cold plenum space and preventing mixing of hot and cold air, thereby eliminating hot-spots. The cold air is supplied into the contained aisle through perforated tiles from the raised floor or produced locally by CoolTeg units which are installed directly in the row of cabinets as an integral part of the aisle. Standard width of the CCA is 1.2 m (two perforated tiles) or 1.8 m (three perforated tiles) and the containment can be deployed with standard swing doors or dual leaf sliding doors. Using the Contained Cold Aisle is highly recommended to maximize cooling efficiency and minimize energy consumption of the entire Datacenter.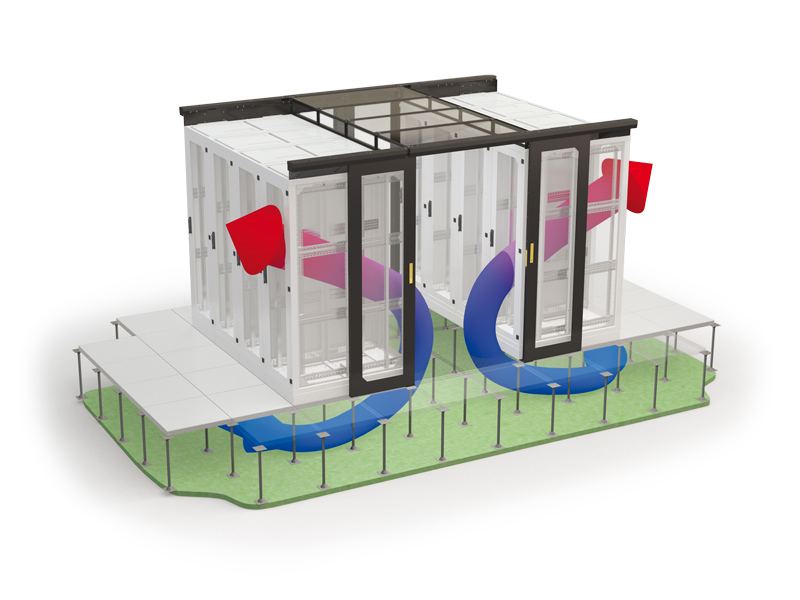 Recommended Contained Cold Aisle configuration

Width of the Contained Cold Aisle is 1.2 m (two floor tiles) or 1.8 m (three floor tiles)

Height of the Contained Cold Aisle is standard as for Conteg racks – 42, 45 or 48U

Roof

The modular roof sections are bolted onto the top of the racks to prevent the mixing of cooled air and warm exhaust. The roof parts are 400, 600, 800, 900 and 1 100 mm long. The roof panels are made of 6mm clear polycarbonate to enable light spill to the contained aisle. This material is non-flammable according to the local codes. Our solution supports installation of extinguishing system to the aisle.

Side panels with glass view-through

Door sections

Aisle entry is through one or two doors, 1200mm (or 1800mm) width, 2246mm high. The door is a very important component of this contained aisle solution. There are two solutions – a sliding or double wing door. Both types consist of two doors (wings). A standard sliding door consists of a Mechanical opening system (each door wing is independent) and can be equipped with a Dual  Synchro system (both door wings moving simultaneously) or with an Automatic system with electric control. As standard the double wing door is mechanical and can be equipped with an Automatic Door Handle system. A blank panel could be used instead of a door to close one side of the contained aisle.

Recommended cooling systems for Contained Cold Aisle

It is possible to use a central air cooling system or decentralized CoolTeg units. We can arrange both solutions for you using our own products or products of our specialized partners. Do not hesitate to contact us – we are ready to assist you with current project.

CONTAINED AISLE - MODULAR SOLUTION

The Modular Contained Aisle system is the ideal solution when rows of racks with different heights or even gaps (when some racks are missing) are required to be contained. The system is based on self-supporting construction with clear polycarbonate panels on the top of the roof. Vertical side sections of the roof feature PVC foil strips. These strips can be easily cut to the required length. The Modular Contained Aisle can work with a standard double-wing- doors (see above) or with PVC foil strips instead of standard doors. The solution is ready for 2300 and 2500 mm. Do not hesitate to contact us for more information.