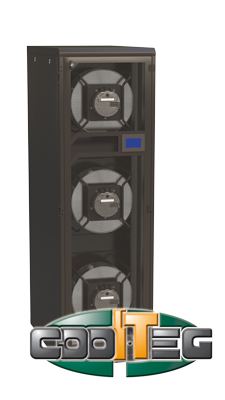 CONTEG

Products IT

Targeted Cooling & Ventilation

CoolTeg Plus

CoolTeg Plus XC
CoolTeg Plus XC
CoolTeg Plus XC in-row units are based on the direct expansion principal. A compressor is integrated into the indoor unit, which is connected to its outdoor condenser.
MAIN ADVANTAGES:
No water in data center
Compressor safely positioned inside data center
Very high energy efficiency and stepless capacity control
Low noise of outdoor unit
Variable design and size of outdoor unit
Operation in wide range of outdoor temperatures
Perfect oil management for piping system
Ecological refrigerant R410A
DESCRIPTION:
The most efficient scroll compressor to date
Inverter-driven compressor built into internal unit
Environmentally-friendly refrigerant R410a
Electronic expansion valve and advanced steering logic
Stepless capacity control from 20 to 100%
Oil separator and Trax-oil inside
Low- and high-pressure safety switches
Refrigerant valves for easy maintenance
Operation in outdoor temperatures between -40 °C and +55 °C
Distance between indoor and outdoor unit up to 60 m
Outdoor unit:
Internal CoolTeg Plus XC unit compatible with any outdoor condenser with variable airflow
Outdoor unit for heat rejection should be designed based on the condensing temperature of the refrigerant, plus typical max. regional ambient temperatures
For correct design of outdoor unit, please use our Cool Tool selection software or contact our team of technical specialists
Local conditions determine which of Conteg's dry or wet (adiabatic) coolers can be deployed
Conteg is currently developing a new adiabatic cooling unit, EcoCool (compatible with CoolTeg Plus XC), to reduce overall cooling system power consumption
CoolTeg Plus XC
Indoor unit type
Unit
AC-TXC-42-40
Connected outdoor unit
 
AC-COND2-xx-xx/EcoCool
BASIC DATA
Cooling system
–
Direct expansion
Architecture1
–
Open or closed
Nominal cooling capacity2
kW
42.2
Nominal net cooling capacity3
kW
39.1
Power supply
V/f/Hz
400/3/50
Running current
A
22.7
Maximum current
A
25.3
Fan power consumption (maximum)
kW
3.1
Compressor power consumption (maximum)
kW
12.3
Nominal airflow4
m3/h
9000
Number of radial fans
Pcs
3
Motor fan technology
–
EC
Refrigerant type
–
R410A
Filter class5
–
G4
DIMENSIONS
Height
mm (U)
1978 (42U), 2111 (45U), 2245 (48U)
Width
mm
400
Depth6
mm
1000 or 1200
Weight – depth 1000 mm, height 42/45/48U
kg
262/270/278
Weight – depth 1200 mm, height 42/45/48U
kg
274/284/294
CONNECTION DIMENSION
Piping diameter – liquid line
mm
16
Piping diameter – gas line
mm
22
1 CoolTeg Plus units can be used either independently (in rack rows), or integrated in a Modular Closed Loop(MCL) – closed architecture rack systems and cooling units. Indoor unit type is changed as per orderingmatrix.
2 Cooling capacity is changed by controller. Nominal cooling capacity is calculated at indoor hot airtemperature 35 °C without condensation (air humidity below dew-point), outdoor temp. +35 °C, clean filters.
3 Net cooling capacity is the total cooling capacity reduced for fan heat load. Useful unit cooling capacity.
4 Airflow is automatically changed by controller. Nominal airflow matches nominal cooling capacity.
5 Units in Modular Closed Loop architecture (MCL) are delivered without filters as standard6 Units in Modular Closed Loop architecture (MCL) are available in 1200 mm depth only
6 Units in Modular Closed Loop architecture (MCL) are available in 1200 mm depth only