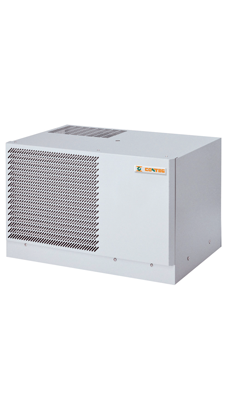 CONTEG

Products IT

Targeted Cooling & Ventilation

CoolSpot

CoolSpot DX

CoolSpot TM-DX
CoolSpot TM-DX
Conteg's CoolSpot (Top Mount) DX series has an exceptional cooling capacity and does not up floor-space needed for the rack. The CoolSpot TM cooling solution is available in capacities ranging from 1 kW to 6 kW (approx 20.500 BTU/hr). These cooling units are compatible with the following free-standing racks series PREMIUM Cabling RDF and PREMIUM Server RSF.
The Top Mount solution is a stand-alone direct expansion (DX) solution, which means that no additional plumbing or piping is required. Condensate is eliminated thanks to the Condensate Dissipater (1.4 kW version and above) and Stulz's "triple condensate protection system".
The Top Mount solutions all feature standard electronic control boards. The electronic control boards make sure the Top Mount units are running at optimal efficiency and not overcooling the cabinet.
When installing these units in closed areas make sure that the room has sufficient clearance and adequate ventilation so that environmental operating conditions (up to 55 °C) are not exceeded.
Unit's cooling output: 1-6 kW

Compact design - coolant piping distribution systems are not necessary

Condensate evaporation system (standard on units with 1.4 kW and higher) eliminates the need for condensate drainage

The triple protection system ensures condensate cannot enter rack

The heat exchanger surface has been treated specially to provide the highest possible resistance against clogging, therefore the unit can operate with full output even when the ambient temperature reaches 55 °C

The cooling system was designed to operate without filters reducing ongoing maintenance requirements

The cooling units have easy-to-use electronic control boards that accurately set the tmperature in the rack
Alarms will go off if the temperature in the cabinet gets too high. The CoolSpot TM solution can be tied into existing monitoring systems or Conteg's Rack & Environment Monitoring System to alert remotely if the temperature exceeds user defined thresholds.
CoolSpot DX – Top Mount Version

    
Chilled water
Unit
AC-TM2-10
AC-TM2-14
AC-TM2-20
AC-TM2-28
AC-TM2-41
AC-TM2-60
Cooling capacity (L35W10)
W
900
1400
2000
2700
3800
5200

Cooling capacity (L35L50)

W

760
1170
1700
2300
2700
4100
Power supply
V/ph/Hz
230/1/50
230/1/50
230/1/50
230/1/50
230/1/50
400/3/50
Width
mm
325
400
400
450
450
600
Height
mm
335
450
450
480
480
550
Depth
mm

600
600
600
800
800
800
Maximum current
A
3,2
5,2
5,7
7
9
4,6
Starting current
A
15
17

22

32

36

25

Prefuse
A

6

8

8




12




16

10

Power consumption
W
630


950




1200




1580




2000

2540

Cabinet air flow
m3/h
575
575

860

860

1450
1720
Cabinet temperature

°C

+25/+45
+25/+45
+25/+45
+25/+45
+25/+45
+25/+45
Ambient temp. limit

°C

+20/+55
+20/+55
+20/+55
+20/+55
+20/+55
+20/+55
Protection degree
IP
54
54
54
54
54
54
Noise level
dB(A)
67
58
62
77
77
77
Weight
kg
32

48
51,5
74,5
76,5
94
CABINET COMPATIBILITY   
Width
cm
60, 80
Height
U
all
Depth
cm
80
80
80
80, 100, 120
80, 100, 120
100, 120