CONTEG

Products IT

Targeted Cooling & Ventilation

CoolSpot

CoolSpot DX
CoolSpot DX
CoolSpot DX units include a complete refrigerant circuit with compressor, evaporator, condenser, and all necessary components and control systems. This air-condition is designed to deliver cooling capacity up to 6 kW for a standalone cabinets. CoolSpot DX units are designed as Plug & Play easy to use cooling system that requires only power supply, and condensate drainage. Cooling capacity of the air-conditioning unit is controlled by EMB controller with a simply display to keep the set temperature in the Conteg cabinet.
Conteg CoolSpot DX unit is a stand-alone direct expansion solution with reciprocating compressor inside which means that no additional plumbing or piping is required. Condensate outlet amount is reduced thanks to a Condensate Dissipater (1.4 kW version and above) and security is guaranteed by triple condensate protection system. This means that the condensate normally associated with air-conditioning systems is reduced or eliminated, giving total flexibility for deployment. Special condenser coil design enables perfect operation without any air filter what reduce the maintain costs.
The CoolSpot DX units feature electronic control boards as standard which give superior control of the air conditioner over standard electromechanical types. The Electronic Control Board ensures that the Conteg air-conditioning units are running at optimal efficiency and not overcooling the cabinet.
When installing these units into closed areas always make sure that the room has sufficient clearance and adequate ventilation so that environmental operating conditions (up to 55°C) are not exceeded.
CoolSpot cooling units are easily integrated with monitoring system RAMOS to provide remote notification about the temperature inside the rack.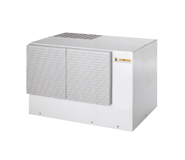 CoolSpot TM-DX units are mounted to the rack top cover. This solution is designed for low, medium and high thermal loads, thanks to its cooling output which can reach as much as 6kW.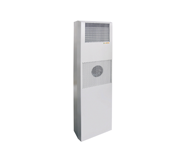 CoolSpot WM-DX cooling units are installed on the sides of racks, replacing one side panel. These wall-mount cooling units are particularly useful when there is limited ceiling clearance, making it impossible to install top mounted solutions.