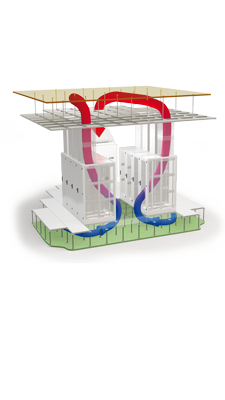 CONTEG

Solutions

Data Centers

Total Solutions for Data Centers

Room Feed with Plenum Return
Room Feed with Plenum Return
A potential drawback with Contained Cold Aisle and Direct Feed/Room Return technologies is that the hot exhaust is introduced into the facility. Generally this should not pose a problem as long as the layout of the data center takes this into account. However, in certain very high density applications, it may be desirable to completely separate the hot exhaust. Conteg's Hot Plenum Return Kit addresses this requirement by using a vertical chimney at the top rear of the rack directly connected to a hot plenum at ceiling height. The hot air is removed from the plenum by CRAC units, cooled again and delivered back to the room. The rack is equipped with a front-vented door, so the cold air can easily enter the rack space, where it is sucked in by the installed equipment.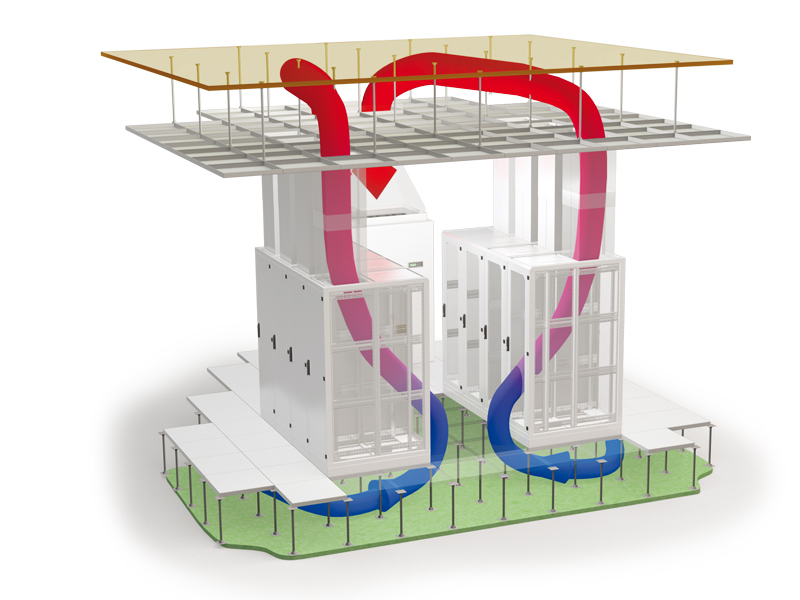 Recommended configuration for the cold air supply from the room, return via a plenum ceiling
In this arrangement the cold air enters the cabinet through the vented front door. The air separation frame and blanking panels prevent the cold air from being mixed with the hot air and optimize the airflow. By The air deflector (on the bottom) directs the hot air in the rear zone of the cabinet to the chimney which is located on the top cover of the cabinet. The rear sheet steel door prevents the hot air from getting back to the room and mixing with the cold air.
Server rack PREMIUM RSF: heights 42-45-48U, width 600 or 800mm and depth 1200 mm
Vented sheet steel front door (86% perforation rate) with multipoint lock and universal key
Solid sheet steel rear door with multipoint lock and universal key
Removable side panels with lock and universal key
2 pairs of adjustable 19" vertical extrusions
Top and bottom cable entries, removable top plate
Adjustable feet, optional plinths
Recommended cooling systems
The recommended cooling systems for racks equipped with chimneys are central cooling units with cold air delivery to the raised floor or to the computer room. Since 2008, we have been an official partner of the world's major manufacturers of air-conditioning solutions. Through this alliance, we are also able to offer complex central cooling systems. Do not hesitate to contact us - we can help you regardless of the size of your project. We support simple to very large, more complicated central cooling capacity.