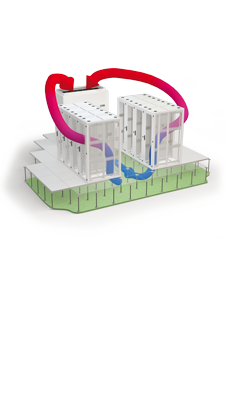 CONTEG

Solutions

Data Centers

Total Solutions for Data Centers

Plenum Feed with Room Return
Plenum Feed with Room Return
This solution optimizes the use of cooled air by directing the cold air directly from the raised floor to the equipment within the rack.The rack sits on a special positioning welded frame which replaces a standard 600 x 600 floor tile. A deflector located in the bottom of the rack directs the cold air to the front of the rack to be drawn through the equipment mounted inside. Cold air is kept within the rack by a solid front door and hot exhaust air is rejected into the room through a vented rear door ensuring that cold supply and hot exhaust airstreams remain separated leading to more efficient use of the cooled air and elimination of hot spots.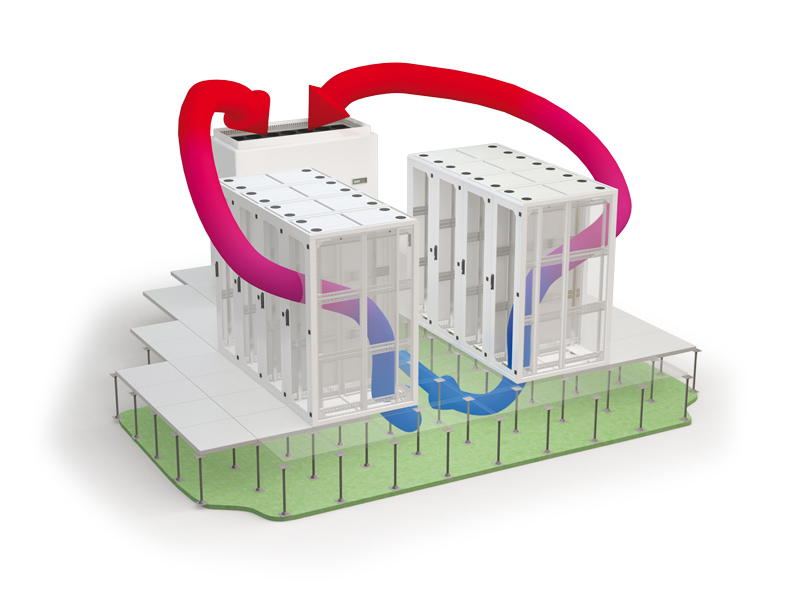 Recommended configuration for the cold air supply from the raised floor, return within the room
In this arrangement the cold air enters the cabinet through the bottom (the rack is placed on the positioning welded frame). A solid front glass door keeps the cold air in the front zone of the cabinet. The air separation frame and blanking panels separate this cold air from the hot air exhaust side. The vented rear door allows simple rejection of the hot air from the rack space.
Front glass door with swivel handle and multipoint lock (universal key)
Rear vented door with perforation 86% and swivel handle with multipoint lock (universal key)
Removable sheet steel side panels with lock (universal key)
2 pairs of adjustable vertical extrusions
Top and bottom openings for cable entries, removable top cover
Height-adjustable feet; combined welded frame DP-PRF-ROF-60/60 (optional)
Recommended cooling systems
The recommended cooling systems for this arrangement (air delivery from the bottom - return through the room) require a central cooling system. Since 2008, we have been an official partner of the world's major manufacturers of air-conditioning solutions. Through this alliance, we are also able to offer complex central cooling systems. Do not hesitate to contact us - we can help you regardless of the size of your project. We support simple to very large, more complicated central cooling capacity.