CONTEG

Products IT

Targeted Cooling & Ventilation

CoolSpot

CoolSpot CW
CoolSpot CW
CoolSpot CW – our very new product line – was developed for places where heat and noise from compressor could be disturbing in the room. It demands connection to the chilled water piping system of the building. Cooling capacity of the air-conditioning unit is controlled by 2-way valve inside to keep the set temperature in the Conteg cabinet.
Conteg CoolSpot CW units are designed to keep the right environment inside Conteg cabinets. The inside temperature of rack equipped by CoolSpot unit is controlled with a very low energy consumption. The CW series is ready for connection to the chilled water piping system in the building. Radial fan in the air-conditioning unit cares for the right air flow through high capacity water-air heat exchanger to the rack.
CoolSpot CW can be installed in rooms with continuous presence of people, thanks to low noise and no heat load coming out of the unit. When installing these units into closed areas always make sure that the room has sufficient space above or aside the cabinet.
The CoolSpot CW includes 2-way solenoid valve with gas-loaded mechanical thermostat at return air. Temperature Set point can be adjusted with a screwdriver from 20 to 46 °C. Cooling band is 4 K. If high condensate level is detected, it closes solenoid valve while fans keep running.
CoolSpot cooling units are easily integrated with monitoring system RAMOS to provide remote notification about the temperature inside the rack.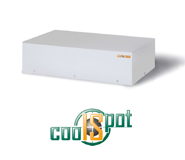 Small air-conditioning unit in Top Mount design for perfect air separation and space saving in IT room.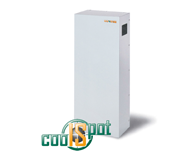 Small air-conditioning unit in Wall Mount design for double power or better safety thanks to stand-by unit.