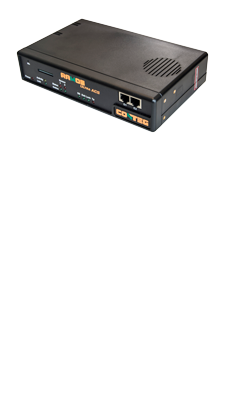 CONTEG

Products IT

Complementary Systems

Access Control Systems

Ramos Ultra Access Control System

RAMOS ULTRA ACS
RAMOS ULTRA ACS
RAMOS ULTRA ACS packages provide all-in-one access control for a computer rooms or remote telecom sites. All are monitored and recorded without compromise using the CONTEG Pro Server Application.
The RAMOS ULTRA ACS is a versatile yet compact base unit, powered via 12 VDC. RAMOS ULTRA ACS is capable of supporting up to 4 High Definition Digital Cameras, 2 Fingerprint reader and 2 card readers or Keypads. You can also add up to 2 additional environmental monitoring sensors using RJ45 plug-and-play technology.
RAMOS ULTRA ACS offers an unprecedented level of security for any number of locations regardless of their physical location. Whether you want to control and monitor access to rooms in the same building or separate rooms in diff­erent cities, states, countries or even continents, RAMOS ULTRA ACS has you covered for up to 5000 entrances and exits worldwide.
Identical features to standard RAMOS Ultra
2 Expansion Ports (connection via LAN cables)
2 Intelligent ports for accessories
2 fingerprint ports
2 card readers or Keypad ports
1 port for Latch or lock
4 USB video ports and 4 PTZ ports
USB 2.0 for modem or adapters
2.5 Audio jack ports IN, OUT and MIC
RS485 port (for Modbus communication)
LED indications for POWER, NETWORK, ONLINE, SENSORS and DOOR STATUS
12 VDC power supply with cord, brackets, screws and DOOR LOCK CONVERTOR included
| | |
| --- | --- |
| File type | Language version |